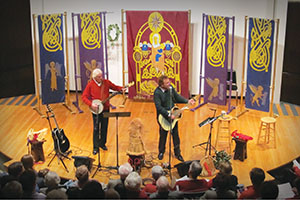 Savor the Christmas season as it has been celebrated among the Celtic people for centuries during A Celtic Christmas, presented by The Celtic Sons, at LSC-Montgomery on December 9.
Celebrate the holidays with a unique and exciting presentation, A Celtic Christmas, by The Celtic Sons, at LSC-Montgomery, on Monday, December 9, at 12 p.m., in the Performing Arts Center (Building D). The community is invited to this free presentation.
The Celtic Sons, a duo featuring Danny O'Flaherty and Noel Nash, will showcase the customs, stories, songs, and distinct yuletide from each of the seven Celtic nations: Brittany, Cornwall, Ireland, The Isle of Man, Galicia, Scotland, and Wales. Their song selections exemplify their understanding of the deep roots of folk music and their respect for the strong traditions of this music genre. Each song is performed with a sincerity that reveals the message—the story behind the song.
A Celtic Christmas is presented as part of LSC-Montgomery's Lyceum Speaker Series, which provides a variety of free presentations throughout the fall and spring semesters based on sociological, historical, economical, political, psychological, and spiritual views. All students, staff, and faculty, as well as community members, are invited to attend any Lyceum event throughout the year.
For more information, visit LoneStar.edu/Lyceum-Montgomery; or contact Dr. Dominic Beggan, associate professor of political science at LSC-Montgomery, at (936) 271-6219, or Dominic.M.Beggan@LoneStar.edu.