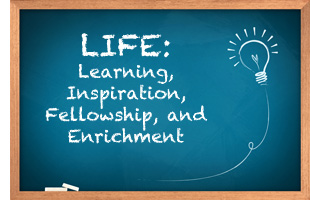 Add some life to your new year learning about "a better you", friendship bracelets, family genealogy and Japanese Flower Arranging at the free weekly workshops this January.
Lone Star College-CyFair's Learning, Inspiration, Fellowship, and Enrichment (L.I.F.E.) programs are free and held Wednesdays from 10 a.m. to 11 a.m. in the library (Room 131 unless otherwise noted) at 9191 Barker Cypress.
January 8 — Get Healthy, Chinese Style
Dr. Mary Chen brings her acupuncture needles and herbal concoctions to help you lose weight, quit smoking, and become a better you. (A joint presentation with the Wellness Committee.)


January 15 — Wicked Cool Friendship Bracelets
Remember boondoggle key chains, friendship bracelets, and friendship pins on your shoes? Astound your children and grandchildren with groovy "what's happening now" loom friendship bracelets with Philosophy Professor Jason Moulenbelt.


January 22 — Genealogy Birth of a Nation
Library Director Mick Stafford reveals the magic of birth records in uncovering your family's genealogy.


January 29 — Japanese Flower Arranging
They call it Ikebana, the precise and minimalist way of creating beautiful flower and stem arrangements. For Lunar New Year on January 31, why not learn to create something near perfection? Yu Mei Montalvo, member of Ikebana International Houston Chapter 12, has spent 17 years teaching Sogetsu, a form of Ikebana.
Call the library at 281.290.3214 for L.I.F.E. program information or go online to LoneStar.edu.