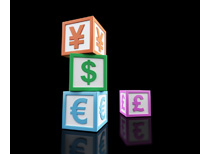 What's the importance of a credit score? What's the best way to manage debt? What college scholarships are available? Find out at Lone Star College-CyFair's financial literacy sessions set Feb. 3 - Feb. 27 as part of Financial Aid Awareness Month.
"We want to educate students while they're in college and beyond on topics such as budgeting, managing debt, prioritizing financial goals, understanding credit scores and more as well as provide them with the necessary tools to continue on the path to financial stability," said Ashlie Resendez, director of financial aid.
Sessions will be held in the Center for Academic and Student Affairs building, room 107 unless otherwise noted.
Cash for College
10 a.m. Feb. 8 and Feb. 11, 3 p.m. Feb. 20 and Feb. 24
Get information on available sources for funding, including the Free Application for Federal Student Aid (FAFSA) process.


Credit Basics and Managing Credit
2 p.m. Feb. 6 and 5 p.m. Feb. 12
Learn how to use future income to make large purchases, such as education or a house, how lenders make money, the cost of borrowing, tips for maintaining creditworthiness as well as guidelines on keeping credit in good shape.


Tips on Applying for Scholarships
5 p.m. Feb. 10, 10 a.m. Feb. 13 at LSC-Cypress Center,
2 p.m. Feb. 18 and 10 a.m. Feb. 27 at LSC-Fairbanks Center
Receive tips on how to find available scholarships, what donors are looking for, and how to write an effective essay.


How to Maintain your Financial Aid
Noon Feb. 3, 1 p.m. Feb. 14 and 2 p.m. Feb. 26
There are limits as to how much financial aid you can receive in a lifetime. Learn about the requirements needed to maintain your financial aid eligibility while at LSCS and going into a 4-year program.


Setting your Financial Goals and Prioritizing What Counts
2 p.m. Feb. 5, 10 a.m. Feb. 17 at LSC-Fairbanks Center
and 10 a.m. Feb. 25 at LSC-Cypress Center
Understand the facets of financial goal-setting, including specificity and timeframes set for the goals, while reviewing the differences between fundamental necessities and desires or preferences, as well as how needs and wants can vary across time and circumstances.


In addition to these sessions, there will be a Financial Aid Awareness Extravaganza with informational activities, games, give-aways, food and fun from 11:30 am. – 1 p.m. Feb. 19.
"We will be giving away Financial Aid Success Kits for students who attend three or more events during the month and other potentially fabulous prizes for those who participate in at least two events," said Resendez.
For information on these events, contact Resendez at 281.290.5228 or go to LoneStar.edu/cyfair.