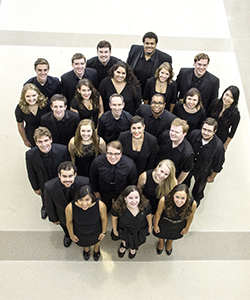 On Thursday, January 16, at 7:30 p.m., the DePauw Chamber Singers, the top national and international touring choir of Indiana's DePauw University School of Music, will perform a free concert of Spanish and American music at Lone Star College-Montgomery's Music Hall. The performance is part of the choir's tour of Texas and Mexico.
But their visit to Lone Star College-Montgomery is especially meaningful for the group's conductor, Gregory Ristow. Until 2009, Ristow taught here at LSC-Montgomery, where he helped build the music department and choral program.
"During my final year at the college, we were designing the new music building and recital hall," said Ristow. "We worked hard to get the acoustics right, but you never know quite how it will turn out. I've been back to hear concerts, and it's perfect. I am so excited to have the chance to perform in my old home in this wonderful hall."
The Chamber Singers will perform music in a wide variety of styles, from Louis Armstrong's famous "What a Wonderful World," to fiery Spanish choral music from the Renaissance, to a gorgeous set of African-American spirituals.
The group will also perform a very special song, written by children being treated for cancer at the Texas Children's Hospital, called "A Celebration of Hope." Children at the hospital, working together with professional song writers, created the song. During their tour, the DePauw Chamber Singers will also record this song and perform it at the hospital as part of the Purple Songs Can Fly project (
www.purplesongscanfly.org
).