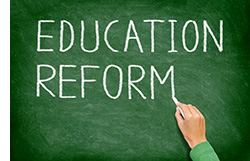 Save the date April 8 for the "Educational Reform: Serving Our Children Through Effective Schools" talk followed with a Q&A session at Lone Star College-CyFair.
Don't miss this riveting talk with Superintendent of KIPP Houston Public Schools Sehba Ali and Assistant Director of School Performance at Houston A+ Challenge Shehz Ali.
A former English middle school teacher in Houston, Superintendent Ali founded KIPP Heartwood Academy middle school in San Jose, CA in 2004, which has consistently been rated as one of the highest performing middle schools in California and is a nationally recognized Blue Ribbon School. She now manages 950 staff members who are committed to ensuring KIPP students and alumni are successful to and through college. Currently, KIPP Houston's college graduation rate is five times the average for low-income students nationally.
With nine years of experience as a teacher and school administrator at all levels, Shehz Ali is a systemic thinker with a wealth of experience in multi-state school reform, coaching middle school leadership teams, and designing and implementing school transformations. Providing leadership coaching and project management in seven Houston A+ Challenge Network middle schools, he works primarily with school leaders to ensure their growth in learning and implementation of best practice. Prior to 2012, Shehz worked as a Lead School Innovation Partner for Partners in School Innovation, a San Francisco-based nonprofit working to help transform low-performing public schools.
The educational reform talk will be held from 1:40 p.m. – 3 p.m. in the Conference Center at 9191 Barker Cypress. For information, contact Shamim Arastu at Shamim.J.Arastu@LoneStar.edu.