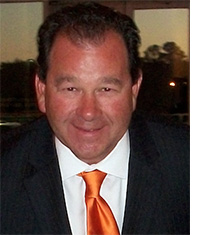 Lone Star College-CyFair's Speaking of Business Series continues March 26 with Puerto Rico Soccer Hall of Famer Joseph "Joey" Serralta and a discussion on "Real World Marketing."
Inducted into the Hall of Fame in 2007, Serralta played 13 years for the Puerto Rico National Soccer Team where he holds the Career Scoring Record. An award-winning and record setter athlete while at Houston Baptist University as well as a former coach for youth, high school, college and a Men's Club, he is now the CEO of Nijovi Inc., a sports marketing and advertising firm.
With 25 years of advertising, entertainment and marketing experience, he will discuss the benefits of understanding customer needs for a successful marketing campaign in today's business world. He will help students better apply marketing concepts learned in the classroom with real world marketing experiences.
Networking with Serralta, and other attendees will begin at 12:45 p.m. followed with the 1:15 p.m. talk set in the Center for Academics and Student Affairs (CASA) room 110.
Light refreshments will be served, however space is limited.
The free Speaking of Business Series is designed to enhance the personal and professional development of future business and community leaders.
Sponsoring this series is LSC-CyFair's Business Department. For information, contact Ellen Junious, at 281.290.3511.