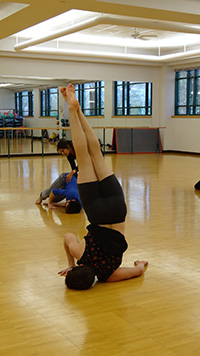 LSC-Montgomery sophomore Jacob Crouch practices an inverted movement during a master class earlier this month. Dance students at LSC-Montgomery are being offered more and more opportunities for technique development and performance during their dance classes.
Lone Star College-Montgomery's dance department continues to grow leaps and bounds every semester.
The program, headed by Dance Professor Tiffany Nirider, exposes students to training experiences with guest artists, facilitates participation in dance festivals around the area, and offers opportunities to showcase their work. With the recent addition of a Dance Performance class (DANC 1151), the students are now receiving more opportunities than ever before.
"In Dance Performance, the students spend the semester learning, creating, rehearsing, and refining choreography to be presented at the end-of-the-semester concert," said Nirider. "This program—Dancescape—features members of the LSC-Montgomery Dance Company, whose main objective is to perform, perform, perform!"
The community is invited to Dancescape, held Thursday, April 17, at 7 p.m., in the Mainstage Theatre, located in the Performing Arts Center (Building D). Tickets are $5 and can be purchased at the door.
Dancescape will mirror some of the great qualities of the department's Mainstage Studio, which was produced in years past. However, Dancescape will focus more toward the performing company.
"Based on a preliminary screening of the choreography, I am very excited about the work that the students will be presenting," said Nirider. "They have grown so much in their technique and artistry, and it is gratifying to witness that growth in their choreography. These students are pouring their souls into their work. Each work deals with a different theme or emotion. I think the audience will be able to relate to the works in some way."
The dance department is also excited about two guest artists to hold master classes with the company. In early March, Sophia Torres from Psophonia Dance Company, a Houston-based modern dance company, held a master modern dance class.
"The students thoroughly enjoyed the flow of Ms. Torres' class and the fact that she had them working upside down in many inverted movements," said Nirider.
Coming up in April, the department welcomes Alisa Paradowski to teach a hip-hop class. Paradowski is a Sam Houston State University graduate who has just returned to the area from an eight-year stint of teaching, performing, and coaching in New York City.
Also earlier this month, six dance students traveled to University of Texas at Austin where they participated in the American College Dance Festival. Students had the opportunity to immerse themselves in classes, lectures, discussions, and witness multiple dance performances from universities and college across Texas and New Mexico.
"The highlight of the week was when our own student, Trenton Young, performed in one of the informal dance concerts," said Nirider. "It was the first time our campus was represented in a performance at the festival."
Young is a sophomore majoring in biology and dance. He received very positive feedback from the festival attendees.
As the semester goes into its second half, the dance company will be busy preparing for Dancescape, as well as other performing opportunities off-campus.
"Having Dance Performance available within our dance program affords our dance students more opportunities to perform in venues off-campus," said Nirider. "Having a rehearsal time and space solely dedicated to learning and refining original choreography ensures that our students will be adequately prepared for the stage. This semester alone, our student dance company will be performing at Lone Star College-North Harris, Lone Star College-Kingwood, and Lamar University, in addition to our own Dancescape."
The department continues to offer ballet and modern dance classes, in addition to Dance Appreciation. As the program grows, the department will look into adding additional classes to their program. Interested students should contact Nirider at Tiffany.R.Nirider@LoneStar.edu or (936) 271-6236.
For more information regarding Dancescape or to purchase tickets, contact Fong Chau, program coordinator for Theatre and Fine Arts at LSC-Montgomery, at (936) 273.7021 or Fong.T.Chau@LoneStar.edu.
LSC-Montgomery is located at 3200 College Park Drive, one-half mile west of Interstate 45, between Conroe and The Woodlands. For more information about the college, call 936.273.7000, or visit
www.LoneStar.edu/montgomery
.
Lone Star College System has been opening doors to a better community for 40 years. Founded in 1973, LSCS remains steadfast in its commitment to student success and credential completion. Today, with 78,000 students in credit classes, and a total enrollment of more than 90,000, Lone Star College System is the largest institution of higher education in the Houston area and one of the fastest-growing community college systems in the nation. Dr. Richard Carpenter is the chancellor of LSCS, which consists of six colleges including LSC-CyFair, LSC-Kingwood, LSC-Montgomery, LSC-North Harris, LSC-Tomball and LSC-University Park, seven centers, LSC-University Center at Montgomery, LSC-University Center at University Park, Lone Star Corporate College, and LSC-Online. To learn more visit
LoneStar.edu
.