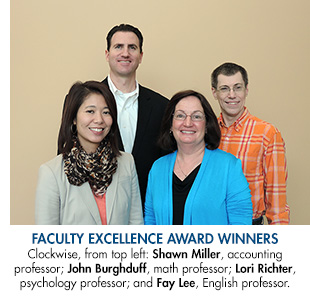 Lone Star College-CyFair's Faculty Excellence Award winners - John Burghduff, math professor, Fay Lee, English professor, Shawn Miller, accounting professor and Lori Richter, psychology professor – are all passionate about the respective subjects they teach and genuinely care about their students in and beyond the classroom.
Burghduff, who's wanted to be a teacher since third grade, began at Lone Star College-Kingwood as a full-time math instructor in 1992 and joined LSC-CyFair in 2003 as a founding faculty member. More than 20 years with the system, he asks "What could be better than teaching something you love?"
In addition to his love for math - its logical structure, which he finds beautiful, and the creativity involved in problem solving - Burghduff searches for ways to share the beauty and fun of it with his students. He incorporates technology, collaboration and writing in the classroom as well as service learning opportunities, linked classes, online learning and hands-on manipulatives as part of his teaching style.
Beyond the love for one's subject, Burghduff believes good teachers must deeply care about the whole student. To help students achieve their goals, teachers need to help address past failures and financial, work or family issues that may distract their students from learning.
"Perhaps the two key elements of effective teachers could be labeled as passion and compassion," said Burghduff, a former 2002 and 2005 Faculty Excellence Award recipient. "My goal is to help my students catch some of the same passion for the subject and for learning in general and some of the same compassion for those with whom they come in contact."
While she has almost 20 years in the field of education and a love for literature, reading and especially writing, Lee began teaching at LSC-CyFair as an adjunct in 2007 at LSC-Fairbanks Center before becoming full-time faculty in 2008 at the Barker Cypress campus. She draws on real life experiences with pragmatic and relevant lessons for a progressive style of teaching where 21st century critical thinking and collaboration skills are taught and applied.
"I truly believe knowledge is golden, but the application of knowledge is priceless," said Lee, who grew up in an immigrant home and is a first-generation college graduate in her family. "Critical-thinking is key to all areas of life, so I teach students how to ask questions in order to cultivate deep learning … I emphasize that every professional field requires teamwork. Helping them develop communication skills will give them confidence when discussing or meeting with future colleagues."
Grounded by the love for her students and the field of teaching, Lee develops creative and engaging course curriculum with the hope her students leave understanding, learning and applying their knowledge in their future profession and may reach success in all areas of their lives.
"Whether I am teaching students how to file a tax return through a service learning project, or taking them on a tour of the machine shop on campus to help them better understand manufacturing accounting, I always attempt to integrate active learning into the educational experience," said Miller, who was hired in 2004 as LSC-CyFair's first full-time accounting professor.
Miller incorporates the latest technologies in the classroom from iPads, clickers and accounting software to educational Apps in classes, including an accounting resources App he created. In addition, his accounting students gain some real world experience as they help prepare tax returns for the public in a partnership with the IRS as part of their VITA program. Miller also led a group of students to Sri Lanka in 2010 for one of the few accounting study abroad programs in the nation at a community college.
"Growing up I knew I wanted to be an accountant (based on feedback from friends and family) even before I really knew what accounting was all about," Miller said. "I am still teaching today because I love it ... I always say I am going to school, not work, because I am getting paid to do something I enjoy."
Richter, who began as an adjunct instructor at LSC-Kingwood and LSC-Tomball before becoming full-time faculty at LSC-CyFair in 2007, said she fell in love with psychology because it is fascinating, relevant, ever-evolving and has many different topics with a lot of breadth.
"I want my students to develop a passion for the subject matter, an inspiration to delve deeper, and a motivation to apply what they are learning to their day-to-day lives," she said. "I want my students to go beyond memorizing facts for an exam – I want them to think critically, and to explore further into the subject matter. I utilize a variety of teaching techniques, especially those that involve active participation."
Richter also co-led the first study abroad program to Tanzania in 2013. Her goals for the program were for students to appreciate cultural diversity, to expand their global perspective, to increase in adaptability and in the confidence required to travel to foreign destinations and to interact effectively across cultures.
These four faculty members will be among those employees recognized for their outstanding service in college-wide and system-wide employee events later this spring. For information on LSC-CyFair, and registration which is under way for May mini-mester and summer sessions, go to LoneStar.edu/cyfair.