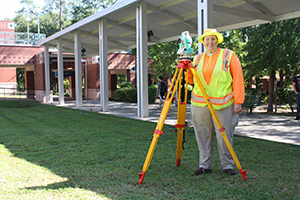 It's detail-oriented individuals like Amy Maddox who find success in the land surveying field. Maddox completed her degree in land surveying and mapping technology from Lone Star College-Montgomery and now has a career with a local surveying company.
Since its inception in 2007, the land surveying and mapping technology program at Lone Star College-Montgomery has helped students launch lucrative careers in an evolving, high-tech field that traces its beginning back to ancient Egypt.
"Surveying is a profession that is not going to go away," said Roger McDonald, program instructor, who explained that rope stretchers re-delineated the boundaries of the Nile delta after the river flooded. "There is always going to be a need for surveyors."
Offered only at the Montgomery campus, the associate of applied science degree (AAS) in land surveying and mapping technology is one of only a handful available in the state. Typical enrollees completed high school or some college and soon found a job in the field. Many, after discovering they liked the industry, realized they needed licensure to advance their careers, and LSC-Montgomery offers the courses they need.
When Helene Lecoanet moved to the United States from France a decade ago, she had degrees in oceanography, geosciences and environmental science. Becoming a professional land surveyor suited her background and interests, so she earned her AAS from LSC-Montgomery in 2011.
"The program equipped me with useful and effective skills allowing me to successfully complete my work," she said. "This included how to check boundaries and how to read, plot and study deeds."
She now works for The Woodlands Land Development Company, amassing required hours under the supervision of a registered professional land surveyor, and plans to sit for the state-licensing exam herself.
For former student Amy Maddox, the lure of a healthy income encouraged her to enroll in the program after completing a degree at Sam Houston State University.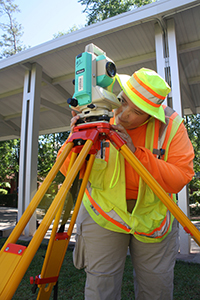 Lone Star College-Montgomery is one of only a handful of colleges in the state that offer a degree in the high-tech, hands-on field of land surveying and mapping technology.
"I'll admit, the first thing I saw was the potential for a decent paycheck, but as soon as I got into my first class and each one after that, I was so excited to be learning about surveying," said Maddox, who now works for C&R Surveying, Inc. "The teachers are all registered professional land surveyors who have an interest in passing on their knowledge to the next generation. They want us all to succeed."
The Texas Board of Professional Land Surveying requires that aspiring professional surveyors earn a bachelor's degree before taking the state-licensing exam. While some students aspire to earn their Surveyor in Training (SIT) licenses and work for surveying firms as technicians, others pursue bachelor's degrees at popular universities such as Sam Houston State University, Texas A&M University Corpus Christi, or University of Houston-Downtown.
"The program is designed so that a person who completes it will be able to articulate their associate of applied science degree to any one of several different universities to complete their bachelor's degrees," McDonald said. "Our program gives them all the required coursework to qualify to sit for the exam once they have a bachelor's degree."
Depending on their major field of study, McDonald said, those who have already earned bachelor's degrees may have already fulfilled some of the course requirements.
According to McDonald, successful students are outdoorsy and detail-oriented. They usually learn by seeing and doing and tend to like classes in geography and history. While the land surveying and mapping technology program has a math requirement, it does not usually overwhelm students.
"You don't have to be able to point a rocket at the moon and actually hit it," McDonald said. "Even if they dislike math, I can still teach them the math they will need to be successful in surveying."
Because all surveys include maps, the program at LSC-Montgomery includes classes in mapping and utilizing modern mapping software. Students often enjoy the sheer variety of the curriculum, McDonald said—the same variety that makes jobs in the industry interesting.
McDonald is proud of LSC-Montgomery's program for identifying a need in the community for land surveyor training, and then instituting a well-equipped program to successfully address that need. He is hopeful that in the near future, online courses will be available to help students who have long commutes to the Montgomery campus.
For more information on the land surveying and mapping technology program, visit www.LoneStar.edu/land-surveying-technology-dept-montgomery.
LSC-Montgomery is located at 3200 College Park Drive, one-half mile west of Interstate 45, between Conroe and The Woodlands. For more information about the college, call 936.273.7000, or visit www.LoneStar.edu/montgomery.
Lone Star College System has been opening doors to a better community for 40 years. Founded in 1973, LSCS remains steadfast in its commitment to student success and credential completion. Today, with 78,000 students in credit classes, and a total enrollment of more than 90,000, Lone Star College System is the largest institution of higher education in the Houston area and one of the fastest-growing community college systems in the nation. Dr. Richard Carpenter is the chancellor of LSCS, which consists of six colleges including LSC-CyFair, LSC-Kingwood, LSC-Montgomery, LSC-North Harris, LSC-Tomball and LSC-University Park, seven centers, LSC-University Center at Montgomery, LSC-University Center at University Park, Lone Star Corporate College, and LSC-Online. To learn more visit
LoneStar.edu
.