Colt Metz and Other Graduates Recognized at Lone Star College-Montgomery's Commencement Ceremon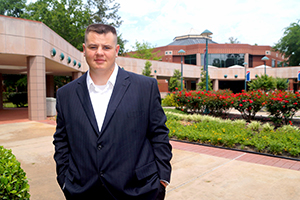 Dual credit classes allowed LSC-Montgomery student Colt Metz to complete high school and his associate's degree at the same time. Metz will transfer to Sam Houston State University this fall to earn his master's in business administration degree.
At 12 years old, Colt Metz had enough drive and determination to launch the life he dreamed of—one full of family, service, and success. Now, the 18-year-old home-schooled student from Huntsville is on the fast-track to reaching his goals—simultaneously completing high school and graduating from Lone Star College-Montgomery in one momentous feat.
"I discovered that if you truly believe you can accomplish anything, you will," said Metz, who has taken dual credit classes since about 2010. Metz will graduate from LSC-Montgomery this May with his associate's degree in business. "The professors at LSC-Montgomery are interested in your future and will help you achieve what you want to achieve. They have a passion for not only enhancing their students academically, but aiding in their personal development in all facets of life."
On Friday, May 9, Metz and approximately 865 other members of LSC-Montgomery's Class of 2014 will be recognized for their achievements at the college's annual commencement ceremony. About 315 students are expected to attend the ceremony, which takes place at 6 p.m. at The Woodlands Church-Fellowship Campus. This is a record number of students expected to walk at graduation.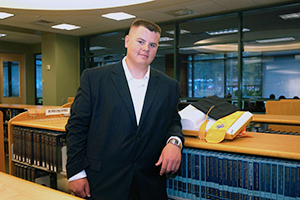 Graduating college is a huge milestone for students, especially Colt Metz. The 18-year-old from Huntsville simultaneously completed high school and earned his associate degree from Lone Star College-Montgomery. He and other LSC-Montgomery graduates will be recognized at the college's commencement ceremony on May 9.
Graduates at the ceremony will hear from Dr. Craig Livingston, professor of history at LSC-Montgomery, and Amanda Augustine, a Class of 2014 graduate, both of whom were selected to give commencement addresses on behalf of the faculty and students, respectively. Dr. Austin A. Lane, president of LSC-Montgomery, will preside over the ceremony.
"Graduation is the culmination of so many dreams for our students," said Lane. "For some, it is the entryway into a career; for others, it is the first step toward a bachelor's degree. And for many graduates, they are the first in their family to receive a degree beyond high school. It's emotional--and it's very special."
Academics were always a focus for Metz and his brother; Cyle, who is 16, is currently taking dual credit classes at LSC-Montgomery. When they began homeschooling, Metz's mother wanted to be sure she was preparing her son for college, so she had Metz (at the age of 12) take the college entrance exam at LSC-Montgomery as a benchmark to see what he needed to focus on.
"I didn't even expect to pass, but I blew through the test," said Metz.
He started taking dual credit classes at LSC-Montgomery, which proved to be more cost effective than his home school curriculum and definitely more beneficial. It also allowed him to continue to play baseball with his brother, which was very important to him.
Metz passed his first class—macroeconomics—with an A. His professor, the late Kevin Nguyen, was "phenomenal," and Metz took two more classes with Nguyen.
"Professor Nguyen wrote me probably 10 letters of recommendation for universities and scholarships before he passed away," said Metz. "He was an amazing professor and mentor."
In other classes, Metz continued to be successful, never earning below a B and becoming a member of Phi Theta Kappa Honor Society. However, he said that outside of class is where he learned more from Nguyen and other professors, notably Gary Brown, professor of political science, and Dr. Tony Fuller, professor of speech.
"They have accomplished things in their life that I want to accomplish," said Metz. "I learned so many things in conversation with these successful individuals that simply cannot be taught in a textbook. I've greatly appreciated the one-on-one and the extra time they took with me. They've sat many hours just talking with me about scholarships, entering the workforce, and continuing my education. I hope to carry that with me to my university."
This fall, Metz will transfer to Sam Houston State University. He's applied for acceptance into the elite Elliott T. Bowers Honors College and plans to earn his master's of business administration degree in management in just three years. After that, his ultimate dream job would be to mesh his baseball passion and business skills to become a general manager of a professional baseball team. He's also content, however, with becoming a business professional like his mother and grandfather.
"I want to follow in their footsteps with a life that puts God, family, and community at the top," said Metz. "My parents never missed a baseball game or any activity that my brother and I were involved in, which says something about their priorities."
"I feel honored and blessed at what God has done in my life to this point," he added. "I want my life and any accolades that come with it to bring glory to God's kingdom. Ultimately, I want to make an impact on this world that lasts beyond my existence."
The Woodlands Church-Fellowship Campus is located at One Fellowship Drive in The Woodlands, approximately one mile west of the LSC-Montgomery campus.
For more information about the commencement ceremony, please visit www.LoneStar.edu/graduation-Montgomery.
LSC-Montgomery is located at 3200 College Park Drive, one-half mile west of Interstate 45, between Conroe and The Woodlands. For more information about the college, call 936.273.7000, or visit www.LoneStar.edu/montgomery.
Lone Star College System has been opening doors to a better community for 40 years. Founded in 1973, LSCS remains steadfast in its commitment to student success and credential completion. Today, with 78,000 students in credit classes, and a total enrollment of more than 90,000, Lone Star College System is the largest institution of higher education in the Houston area and one of the fastest-growing community college systems in the nation. Dr. Richard Carpenter is the chancellor of LSCS, which consists of six colleges including LSC-CyFair, LSC-Kingwood, LSC-Montgomery, LSC-North Harris, LSC-Tomball and LSC-University Park, seven centers, LSC-University Center at Montgomery, LSC-University Center at University Park, Lone Star Corporate College, and LSC-Online. To learn more visit LoneStar.edu.