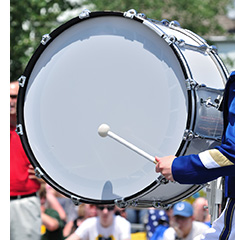 Percussion One (P1), a high school drumline and percussion ensemble, is celebrating 20 years of entertaining millions with a May 18 concert at Lone Star College-CyFair.
Bring the family to enjoy a Sunday afternoon with these artists in residence at LSC-CyFair as they perform classical percussion, drumline, Stevie Wonder tunes, trash can pieces and a myriad of percussion acts.
Lamar Burkhalter, an active percussion educator, clinical, arranger, and performer as well as music director for the Houston Texans, founded P1. His goal was to teach school-aged percussionists to achieve high artistic standards while stressing excellence in education and performance as well as encouraging self-confidence, self-discipline, responsibility and unity among diversity. He later expanded P1, creating P1-13, to provide instruction and performance opportunities for junior high/middle school percussionists.
Under the direction of Burkhalter, these talented students have performed throughout the city, state and world for two decades. P1 and P1-13 students have toured and performed in Russia and Germany, been on stage with the Keith Urban Band and Shania Twain, did prelude performances for the Blue Man Group and Stomp shows and earned rave reviews at a Texas Music Educators Association Clinic/Convention for a lecture clinic performance and a standing-room only showcase concert for an audience of 500 music students and directors.
The past 2013-2014 season included performances for five NFL Houston Texans home games, many Texas Bowl-related events and game, the Houston Symphony Orchestra, opening for international percussion artist, Colin Curry, Champions Forest Baptist Church's "The Gift of Christmas" holiday production, the F.A.C.E. "Creekfest" Fall Celebration and the New Hope Church 25th anniversary celebration among many others.
Don't miss a beat of current season's 20th anniversary concert set at 4:00 pm in the Main Stage Theatre of the Center for the Arts building at 9191 Barker Cypress. For tickets and information, contact brenda@percussionone.org.
For information on the Percussion One Foundation, P1 and P1-13 and more, go to percussionone.org.