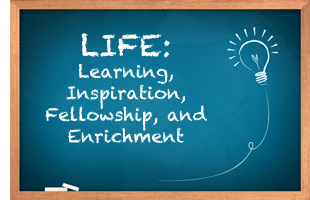 Take a break from the summer heat and enjoy a little history, books, cupcakes, dance, muscles, the oldest Texan, bandana craft and the Chelsea Flower Show this summer at Lone Star College-CyFair.
The Learning, Inspiration, Fellowship, and Enrichment (L.I.F.E.) programs are free and held Wednesdays from 10:00 am to 11:00 am in the library (Room 131 unless otherwise noted) at 9191 Barker Cypress.
June 4 - Codename: Operation Overlord
Relive the D-Day Normandy landing of some 156,000 Americans, British and Canadians on June 6, 1944 that set into motion the end of World War II in Europe. Dr. Sandra Harvey and Rob Coyle will provide a historical look at this important event and momentous invasion.


June 11 - A Summer Reader's Dream
We are excited to welcome back Valerie Koehler, Blue Willow Book Shop owner and super bibliophile. Come to savor some of her favorite books which you can read for the library's summer reading program. Door prizes!


June 18 - Indulge in Babycakes
Learn all about the cupcake craze and the history of cupcakes from cupcake connoisseur Pam Panettiere who will also serve delectable samples.


June 25 - Dance Salad in Motion (Note: meet in ART 102 Recital Hall)
Feast your eyes and ears on this eclectic mix of dance styles from all over the world. Jackie Alfred gives her commentary on the various dance ensembles.


July 2 - No L.I.F.E. program this week. Happy Independence Day!


July 9 - Stronger, Healthier, Better
Jim Guillory, biomechanical specialist and physical therapist, demonstrates MAT (Muscle Activation Technique), a leading-edge therapy to balance your muscles to gain strength and flexibility.


July 16 - Discover the Mystery of the Oldest-Known Texan
Amanda Danning, forensic sculptor, describes "SAM, Son of America," based on the 11,100 year old Paleo-American skull found in Central Texas. Discover how she unraveled the mystery of SAM's appearance by analyzing his features to determine his origins.


July 23 - Bead-a-Bandana
Display your unique Texas style by making a beaded bandana kerchief with Patsy Brautigam, librarian. Bring your Lone Star can-do spirit and we'll supply the materials.


July 30 - Experience the Chelsea Flower Show
Just back from England's renowned Chelsea Flower Show, Freddye Kelly shares her blooming grand adventures.
Check out past programs at lsccyfairlife.blogspot.com. Call the library at 281.290.3214 for L.I.F.E. program information or go online to LoneStar.edu.