Hurricane season officially begins June 1 and the Lone Star College System urges its students, faculty and staff to review their plans in the event a hurricane threatens the Texas Gulf Coast.
LSC provides emergency communications through
LoneStarCollegeAlert
. All current LSC students and employees are automatically opted-in to the LSCS emergency alert system with their LoneStar.edu email address as the primary communication source.
Students and employees interested in receiving text messages to their cell phone during an emergency must log in to
myLoneStar
and update their official personal information record. They may also add additional email addresses to their personal information record if they wish to receive notifications to a personal email address.
It is recommended that all students and employees check their profile in
myLoneStar
to ensure all information is up to date and accurate. Parents, community members, Lone Star College tenants and others who might be visiting a LSC campus and would like to receive alerts can sign up online at
LoneStarCollegeAlert
.
Here are some helpful tips to make sure you are prepared during hurricane season:
Pay attention to local media reports and be sure to have a battery powered radio availabl

Replace or restock your disaster supplies.

Bring in items such as lawn furniture and anything else that can be picked up by the wind.

Keep your windows, doors and hurricane shutters closed. If you do not have hurricane shutters, close and board up all windows and doors with plywood.

Set your refrigerator and freezer to the coldest setting and keep them closed as much as possible so that food will last longer if the power goes out.

Turn off any propane tank.

Unplug all small appliances.

Fill your car's gas tank.

Withdraw cash ahead of time in the event ATM's won't work.

Develop a hurricane evacuation plan with members of your household. Planning and practicing your evacuation plan minimizes confusion and fear during the event.

Learn your community's hurricane response plan. Plan routes to local shelters, register family members with special medical needs and make plans for your pets to be cared for.

Always obey evacuation orders. Avoid flooded roads and washed out bridges.

Residents should have a 3-day supply of water and food and a 7-day supply of medications. Use flashlights in the dark. Never use candles.
You should drive only if necessary and avoid flooded roads and washed out bridges. Be sure to stay away from loose or dangling power lines and report them immediately to the power company. Inspect your home for damage and take pictures of any damage, both of the building and its contents, for insurance purposes.
Visit
RedCross.org
for more tips and information on being prepared for hurricane season.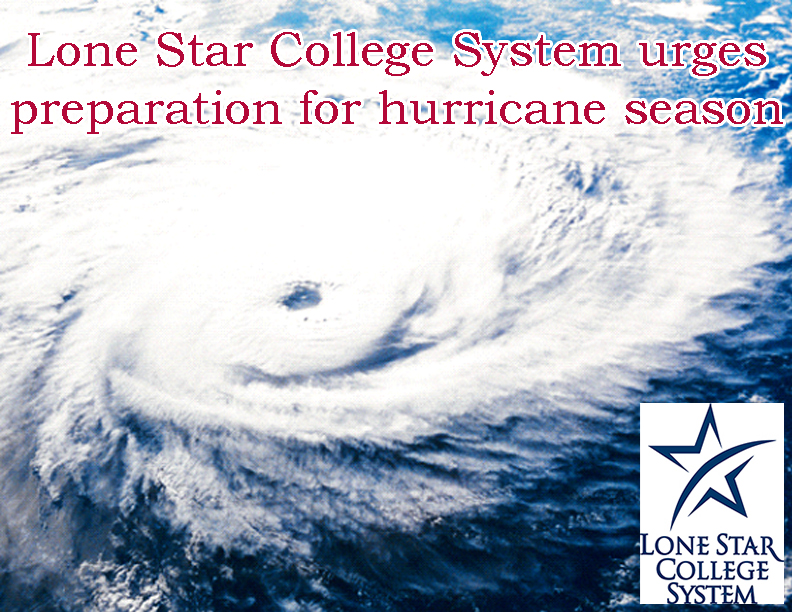 Lone Star College System has been opening doors to a better community for 40 years. Founded in 1973, LSCS remains steadfast in its commitment to student success and credential completion. Today, with 78,000 students in credit classes, and a total enrollment of more than 90,000, Lone Star College System is the largest institution of higher education in the Houston area and one of the fastest-growing community college systems in the nation. Dr. Richard Carpenter is the chancellor of LSCS, which consists of six colleges including LSC-CyFair, LSC-Kingwood, LSC-Montgomery, LSC-North Harris, LSC-Tomball and LSC-University Park, seven centers, LSC-University Center at Montgomery, LSC-University Center at University Park, Lone Star Corporate College, and LSC-Online.
####