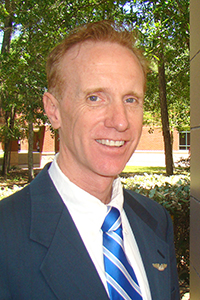 Dr. Craig Livingston, a professor of history and founding faculty member at Lone Star College-Montgomery, was recently honored by the Mormon History Association for his book, "From Above and Below: The Mormon Embrace of Revolution, 1840-1940," which earned the 2014 Best International Book.
Lone Star College-Montgomery history professor, Dr. Craig Livingston, was recently honored when his latest book was awarded the 2014 Best International Book by the Mormon History Association (MHA). Livingston was presented with this distinction – along with a cash prize – at the MHA annual conference in San Antonio last week.
From Above and Below: The Mormon Embrace of Revolution, 1840-1940 (Greg Kofford Books, 2013) tells the story of Mormon commentary on global revolutions from the European revolutions of 1848 to the collapse of Mormon faith in progress in the 1930s when revolutionary communist and fascist regimes exposed themselves as violent and repressive.
"At the conference, it was exciting to see some of my old professors and classmates from Brigham Young University," said Dr. Livingston. "It was nice to cavort with the historians who inspired me long ago."
In addition to the responses of Mormon observers, the book is an excellent source on the start, middle, and end of the revolutions themselves," said Dr. Livingston, a professor of history since the college opened. "Well-known revolutions are discussed, like 1848 in Europe, Mexico in 1910, and Russia in 1917, but lesser revolutions come up too, such as those experienced in Bolivia, Argentina, and Peru during the 1930s."
In 1995 Dr. Livingston came to Lone Star College-Montgomery as a founding faculty member. He is currently president of the Faculty Senate for the second time. In addition to American history, he teaches courses in military history. His guided tour of Mississippi and
Tennessee Civil War battlefields exemplifies the principle of extended learning. His recent Honors class produced a documentary on World War I. Dr. Livingston is a three time recipient of the Lone Star College Faculty Excellence Award.
Dr. Livingston's teaching projects also include building World War II combat gliders and recreating the Union Army's 6th Corps march to Gettysburg. He founded Lord Stirling's Fifes and Drums, an award-winning corps that keeps alive musical traditions of the 18th and 19th century. He has won five LSCS writing awards for articles and books he has penned over the last 19 years.
Livingston's paperback book is also available as an ebook for Kindle, Nook, Kobo, and iDevices.
For more information, visit www.gregkofford.com/products/from-above-and-below.
LSC-Montgomery is located at 3200 College Park Drive, one-half mile west of Interstate 45, between Conroe and The Woodlands. For more information about the college, call 936.273.7000, or visit www.LoneStar.edu/montgomery.
Lone Star College System has been opening doors to a better community for 40 years. Founded in 1973, LSCS remains steadfast in its commitment to student success and credential completion. Today, with 78,000 students in credit classes, and a total enrollment of more than 90,000, Lone Star College System is the largest institution of higher education in the Houston area and one of the fastest-growing community college systems in the nation. Dr. Richard Carpenter is the chancellor of LSCS, which consists of six colleges including LSC-CyFair, LSC-Kingwood, LSC-Montgomery, LSC-North Harris, LSC-Tomball and LSC-University Park, seven centers, LSC-University Center at Montgomery, LSC-University Center at University Park, Lone Star Corporate College, and LSC-Online. To learn more visit LoneStar.edu.