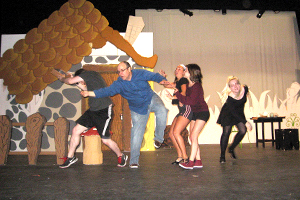 From left to right: Tanner Bench, Brent Young, Mackenzie Haffey, Sara Barchie, and Kat Newman, rehearse for Lone Star College-Montgomery's upcoming production of the musical "Frog and Toad," which runs July 10-12 in the college's Mainstage Theatre (Building D).
The Mainstage Theatre at Lone Star College-Montgomery has been turned into a pop-up storybook as the drama department prepares for its summer musical production of
A Year With Frog and Toad
. This fun-filled, family musical follows the beloved characters Frog and Toad from the popular children book series of
Frog and Toad
by Arnold Lobel.
The whimsical musical follows two great friends – the cheerful popular Frog, and the rather grumpy Toad – as they journey through the four seasons of the year, sharing their friendship, and making new ones with new characters introduced.
"This show is a warm, witty, thoroughly charming story of the importance of friendship and its longevity," said Tim Campbell, director and drama professor at LSC-Montgomery. "There is something for everyone in this show. Both children and adults will marvel at the whimsical set, wildly eccentric characters, nostalgia, and brisk score."
The show utilizes an ensemble of seven actors who all sing, dance and play a variety of characters. The musical gives little time for rest as most of the dialogue is driven by music and dance.
"Rehearsals for this show, like most, are a process of adding and refining layers, including vocal work, acting, choreography, prop handling and set running," added Campbell. "Just as an actor begins to feel comfortable, a new layer is added. The show's cast and crew is incredibly hard-working. They have given great doses of time and energy well-beyond the basic call of duty."
The set and scenery for the show was designed with a storybook-like design. With playful set pieces and props, the creative team wanted to provide a sense of jumping into the story and back into your childhood.
"Because of the nostalgia of the story and the timeless characters, we wanted to invite our audience to step 'into the pages of the books' and join the characters. There is a vaudevillian feel in the music though, and you will see that reflected in the style of the choreography," said Tiffany Nirider, chorographer and dance instructor at LSC-Montgomery.
A Year With Frog and Toad was produced on Broadway in 2003 and garnered three Tony nominations, including Best Musical. The musical was conceived, in part, by Arnold Lobel's daughter after his death in 1987. She wanted to preserve the integrity of her father's books, both in the terms of the characters and in regard to what the audience sees and hears during the show. The result is a synthesis of several of the Frog and Toad books, with familiar characters and illustrations created by Arnold Lobel. The material holds interest for both young and old, managing to capture and propel an endearing cleverness and sophistication for everyone.
"This production at Lone Star College-Montgomery will feature a live pit orchestra and showcase the talents of a broad range of student actors, technicians, and volunteers from the community. We are very excited to share this story with the community," said Campbell.
A Year With Frog and Toad will play July 10-12, 2014, at 7 p.m. in the Mainstage Theatre on the LSC-Montgomery campus, located in building D. There will be a matinee performance on Saturday, July 12, at 3 p.m. Tickets can be purchased online at www.LoneStar.edu/Theatre-Montgomery or at the box office on the day of the performance. Tickets are $15 for general admission, $10 for seniors (55+), and $7 for students/faculty/staff/children.
On July 9, there will be a special preview at 7 p.m. where tickets are discounted to $7 for general admission and free for all students/faculty/staff/children. A food reception will also be served at 6 p.m. and is open to everyone attending the preview performance.
For more information, please contact Fong Chau, program coordinator for theatre/fine arts at LSC-Montgomery, at (936) 273.7021 or email MontgomeryFineArts@LoneStar.edu.
LSC-Montgomery is located at 3200 College Park Drive, one-half mile west of Interstate 45, between Conroe and The Woodlands. For more information about the college, call 936.273.7000, or visit
www.LoneStar.edu/montgomery
.
Lone Star College System has been opening doors to a better community for 40 years. Founded in 1973, LSCS remains steadfast in its commitment to student success and credential completion. Today, with 78,000 students in credit classes, and a total enrollment of more than 90,000, Lone Star College System is the largest institution of higher education in the Houston area and the fastest-growing community college system in the nation. Dr. Richard Carpenter is the chancellor of LSCS, which consists of six colleges including LSC-CyFair, LSC-Kingwood, LSC-Montgomery, LSC-North Harris, LSC-Tomball and LSC-University Park, five centers, LSC-University Center at Montgomery, LSC-University Center at University Park, Lone Star Corporate College, and LSC-Online. To learn more visit
LoneStar.edu
.