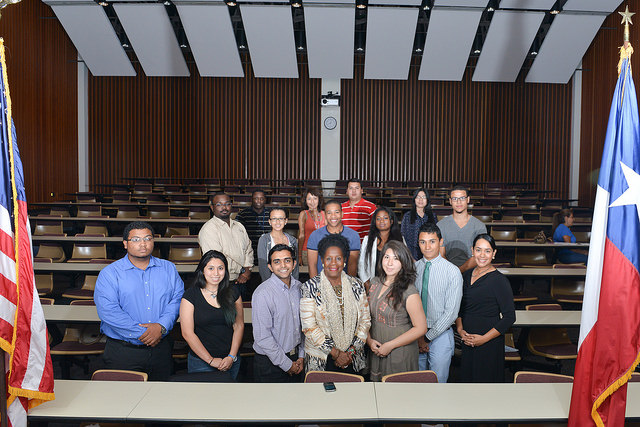 A select group of Lone Star College-North Harris students will be taking the trip of a lifetime this summer. As part of the China U.S. Exchange Foundation, 18 students from LSC-North Harris will visit China August 2-16.
During this two-week trip, the students will be traveling to Beijing, Hangzhou and Shanghai, learning about China's educational and economic systems, and culture.
"Our students have an opportunity to expand their education in a global context," said Dr. Wei Li, LSC-North Harris professor of English and developmental studies, and faculty representative participating in the trip. "I see great potential for these students to become friendship ambassadors between the United States and China, successful diplomats and business people, and citizens and peace makers of the global village."
The group will also be visiting various Chinese universities, meeting the students and faculty, and attending lectures and presentations on Chinese culture. In addition, they will also visit new energy source factories and learn about international business.
U.S. Congresswoman Sheila Jackson Lee, representing Texas' 18th Congressional District, was instrumental in making this opportunity available to Lone Star College students.
"This trip fulfills a commitment made by the People's Republic of China, and I am pleased that they will make sure these Lone Star College students will take part in this groundbreaking program which hopefully will serve as a catalyst for future delegations for students across this great nation," said Congresswoman Jackson Lee.
The main goals for this program are to reach out to qualified and motivated students and provide them with international exposure to different cultures, and provide future educational and business opportunities.
"The program is designed to provide a diverse group of young Americans living or attending school in Congressional Black Caucus (CBC) Member districts with the opportunity to experience Chinese culture and gain exposure to broad career opportunities in an era of increasing globalization," added Jackson Lee.
The participants who were selected for the program are some of the college's highest-achieving students and leaders on campus. More than half of the students in the delegation are currently enrolled in The Honors College.
"We are very proud and excited that our students were chosen for such a prestigious honor," said Li. "Our student delegation will be setting a precedent as model student ambassadors for not only the Lone Star College System, but for our country as well."
Lone Star College-North Harris is located at 2700 W.W. Thorne Drive, one-half mile south of FM 1960 East, between Aldine-Westfield and Hardy Roads. For more information about the college, call 281.618.5400 or visit LoneStar.edu/NorthHarris.
Lone Star College System has been opening doors to a better community for 40 years. Founded in 1973, LSCS remains steadfast in its commitment to student success and credential completion. Today, with 78,000 students in credit classes, and a total enrollment of more than 90,000, Lone Star College System is the largest institution of higher education in the Houston area and one of the fastest-growing community college systems in the nation. Dr. Richard Carpenter is the chancellor of LSCS, which consists of six colleges including LSC-CyFair, LSC-Kingwood, LSC-Montgomery, LSC-North Harris, LSC-Tomball and LSC-University Park, seven centers, LSC-University Center at Montgomery, LSC-University Center at University Park, Lone Star Corporate College, and LSC-Online. To learn more visit LoneStar.edu.
###