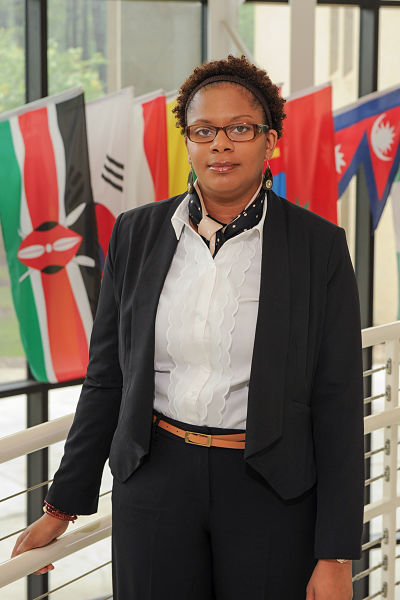 Lone Star College-North Harris has recently named Dr. Daria Willis as the dean of instruction for the LSC-Greenspoint and LSC-Victory Centers. In her new position, Dr. Willis will be overseeing instruction at both centers and providing professional assistance for the faculty and staff.
"I am delighted to take on this new role at Lone Star College and make a positive contribution to the centers," said Willis. "I hope to provide a clear vision and strong leadership by supporting initiatives that will increase the level of cooperation and understanding between academic and student support units, and establish programs that empower faculty, and provide an optimal environment for student success."
Previously, she served as a professor and faculty senate president at LSC-University Park, where she started their first adjunct faculty liaison program to meet the needs of adjunct faculty members on the campus. Dr. Willis is also the founder and chair of the Lone Star College Doctoral Support Group (DSG) and served as the chair for the social and behavioral sciences department at LSC-University Park.
She also initiated the first faculty-sponsored endowment for student scholarships on the LSC-University Park campus. Under her leadership, the faculty senate raised $15,000 by March of 2014. In addition, she is the chair of Texas Southern University's Honor's College community advisory board.
"We are very excited to bring Dr. Willis on board," said Dr. Chantell Hines, vice president of LSC-Greenspoint Center and LSC-Victory Center. "Her experience and knowledge will help contribute to the centers' continued success."
Dr. Willis's career in education began as an adjunct instructor of history at Tallahassee Community College and FAMU. She also spent time as the manager of the archives at the John G. Riley Center and Museum for African American History and Culture, in conjunction with Tallahassee Community College. While pursuing her doctoral degree, she was a museum education program representative for the Museum of Florida History.
Dr. Willis has been published in the AME Church Review and wrote a chapter in The Varieties of Women's Experiences: Portraits of Southern Women in the Post-Civil War Century (2010), edited by Dr. Larry Rivers and Dr. Canter Brown. Her research interests include the American South and African American history, and her dissertation focused on suicide and the black elite in nineteenth and twentieth-century America.
Lone Star College-North Harris is located at 2700 W.W. Thorne Drive, one-half mile south of FM 1960 East, between Aldine-Westfield and Hardy Roads. For more information about the college, call 281.618.5400 or visit LoneStar.edu/NorthHarris.
Lone Star College System has been opening doors to a better community for 40 years. Founded in 1973, LSCS remains steadfast in its commitment to student success and credential completion. Today, with 78,000 students in credit classes, and a total enrollment of more than 90,000, Lone Star College System is the largest institution of higher education in the Houston area and one of the fastest-growing community college systems in the nation. Dr. Richard Carpenter is the chancellor of LSCS, which consists of six colleges including LSC-CyFair, LSC-Kingwood, LSC-Montgomery, LSC-North Harris, LSC-Tomball and LSC-University Park, seven centers, LSC-University Center at Montgomery, LSC-University Center at University Park, Lone Star Corporate College, and LSC-Online. To learn more visit LoneStar.edu.
###