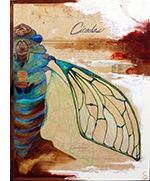 Kicking off the fall art gallery season, is "Mostly Mixed Messages"  featuring the talent of Lone Star College-CyFair Speech Professor Stacy Gresell.
Enjoy Gresell's mixed media work focusing strongly on encaustic on display in the Bosque Gallery from Aug. 26. – Sept. 18.
"Found" objects and artifacts of the past heavily influence Gresell's work. While her mother's attention to color and fit as a stained glass artisan, were the beginnings of her artistic influences, she's always been drawn to contradiction.
"My rhetorical training as a communication professor taught me to argue for point of view and my artistic endeavors do the same - one thing can become another with support, suggestion and finesse. My argument is put forth by the objects I choose - both in the way they are incorporated and in the story they imply," said Gresell. "Everything translates whether it lies beneath the wax or serves as the frame…."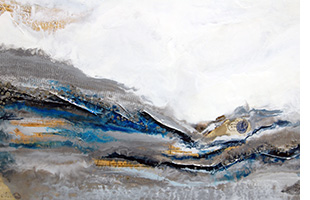 Water and glass themes are prevalent in the collection.
"The fluid properties of water and glass change the image when you move in relation to it," Gresell said. "They lie in direct opposition to more harsh materials such as leather, rusty iron, and nails and then the message competes for perspective and clarity."
Come to enjoy the exhibition, in which "images suggest, but don't denote allowing freedom for the viewer" and stay to meet this artist in person at a reception 4:30 p.m. – 6:30 p.m. Thursday, Sept. 4.
The Bosque Gallery is located in the Center for the Arts building on the Barker Cypress campus at 9191 Barker Cypress.
For gallery hours and information, go to LoneStar.edu/bosquegallery or call 281.290.3401.