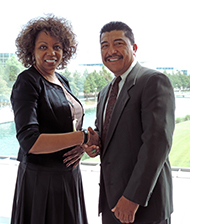 Lone Star College-CyFair reached a historic milestone when Peggy Hicks registered Omar De La Cruz as the fall semester's 20,000th student at 11:32 a.m. Saturday Aug. 23.
"LSC-CyFair was originally built to serve 10,000 students and we have now reached another historical milestone of 20,000. We have exceeded all expectations and are now four times the size of most community colleges," said LSC-CyFair President Dr. Audre Levy. "Our rapid growth is testament to the need in our community for high quality affordable education options. We are thrilled to have Mr. De La Cruz as part of the LSC-CyFair family." 
With no formal education beyond high school, De La Cruz is now owner of Katy Custom Coolers, motivational speaker and a retired Chief Petty Officer after more than 21 years of service in the United States Navy. This father of three also gave his Hazelwood Act Scholarship (for qualified veterans and dependent children veterans in Texas) to his daughter, Laura, who transferred to the University of Houston after graduating from LSC-CyFair.
De La Cruz said he was inspired to complete his education at LSC-CyFair after seeing his daughter walk across the stage this past May, as well as Ken Levin, LSC-CyFair's 83-year-old graduate.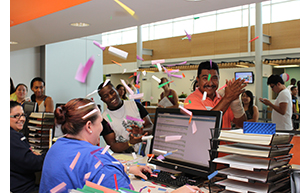 "If you want to get ahead in life you need to be able to step out of your comfort zone. If you want more you have to do more," said De La Cruz, who has not been in school in more than 30 years.  "In order to enjoy a fruitful tomorrow, you must be willing to do something about it today .. but that's not all you have to back it up with action. If there's no action, there's no result."
So using his Post 911 Bill, this non-traditional veteran student is taking both face-to-face and online courses with a goal of completing a business certificate to help take his business to the next level of success.
Hicks, a part-time employee who registered De La Cruz, is also a full-time nursing student at LSC-CyFair and president of the Phi Theta Kappa National Honor Society.
Late Start classes are still available in September and October. Register today at LSC-CyFair at 9191 Barker Cypress, LSC-Cypress Center at 19710 Clay Road or LSC-Fairbanks Center at 14955 Northwest Freeway. For information, go to LoneStar.edu/late-start.