Gain some insight into a successful financial life at Lone Star College-CyFair's next Speaking of Business Series presentation Oct. 1.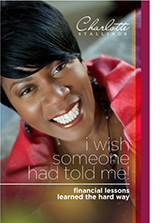 Join Charlotte Stallings for "It's More Than an App: Navigating Your Financial Life for Success!" In addition to appearances on CNN and a featured financial contributor in Essence Magazine and other publications, Stallings is a weekly in-studio guest on Houston's FOX26 "Wake-Up Money" segment. At her LSC-CyFair presentation she will discuss how to get smart about money, making better financial decisions and dealing with financial challenges.
Stalling's presentation will be held from 1 p.m. – 2:30 p.m. in the Conference Center at 9191 Barker Cypress.
Light refreshments will be served, however space is limited.
The free Speaking of Business Series is designed to enhance the personal and professional development of future business and community leaders.
Sponsoring this series is LSC-CyFair's Business and Communication Studies Division. For information, contact Ellen Junious, at 281.290.3511.