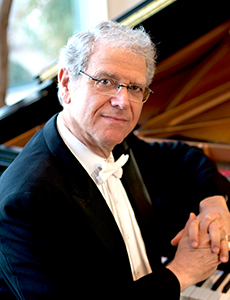 LSC-Montgomery's music department is excited to present piano "super" Saturday, a day-long piano festival featuring world-class piano instructor Dr. Tamás Ungár, on Saturday, November 1.
LSC-Montgomery's music department is excited to present piano "super" Saturday, a day-long musical festival dedicated to anything piano related, on Saturday, November 1, from 12 to 6 p.m., in the Recital Hall, located in the college's Music Hall (Building H). This event, which is free and open to the entire community, will feature world-class piano instructor Dr. Tamás Ungár.
"I'm thrilled that LSC-Montgomery's music department will host the first big piano event in the area that covers all aspects of piano performance—with jazz and classical artists performing, as well as burgeoning student pianists," said Dr. Earl Holt, professor and department chair of music at LSC-Montgomery. "It's a particular honor to host Dr. Tamás Ungár, acclaimed as one of the worlds great pianists, as clinician on our stage."
Sergey Kuznetsov, international award-winning pianist and professor of piano at LSC-Montgomery, has created an opportunity for local educators, performers, LSC-Montgomery students, and the general public to gather for a day full of recitals, classes, presentations, and a closing reception.
"Since we are a Steinway piano school, we have to attract people, students, artists, and teachers to play our pianos and use our excellent concert halls," Kuznetsov said. "Our concert hall is one of the best in Houston with its acoustics, the pianos and the design."
The day will begin with selected talented students from the greater Houston area performing a piano recital for attendees. Guest artist Dr. Tamás Ungár, well-known piano educator and professor at Texas Christian University, will give a master class with students.
Dr. Ungár has earned worldwide acclaim for his powerful performances and innovative programming. He is a regular guest artist at music centers all over the United States, and teaches and performs all over the globe. Some of his highlight performances include with the Sacramento Symphony Orchestra, a soloist and conductor of Mozart Piano Concertos at the University of Leeds, and in England as Artist-in-Residence and solo recital and master class series at the Liszt Academy in Budapest. He has participated in the Chopin Festival in Duszniki and has given a series of master classes in Hannover, Berlin and Dresden. He has toured Finland, Estonia, Denmark and Sweden and was the recipient of the presidential scholars teacher recognition award.
Following an afternoon break (2-3 p.m.), there will be a documentary and presentation of Madam Rosina Levinne, a piano pedagogue and founder of the famous Juilliard piano studio.
Accompanying the presentation will be an artist recital featuring international concert pianist Vladimir Khomyakov, the Ima Hogg Houston Symphony Concerto competition runner-up in 2013, and Pamela York, jazz piano competition winner in Jacksonville, FL, in 2007. The day will conclude with discussion and closing reception.
"It is important to emphasize how it's all linked together," Kuznetsov said. He started playing as a young student from Russia, then taught by Dr. Ungár in Ft. Worth, and studied under Pollack, who was once a student of Levinne, also a Russian immigrant.
For more information on this piano event, contact Sergey Kuznetsov at
Sergey.Kuznetsov@LoneStar.edu
.
For more information about the LSC-Montgomery music department, please visit
www.LoneStar.edu/Music-Montgomery
.
LSC-Montgomery is located at 3200 College Park Drive, one-half mile west of Interstate 45, between Conroe and The Woodlands. For more information about the college, call (936) 273-7000, or visit www.LoneStar.edu/montgomery.

Lone Star College System has been opening doors to a better community for more than 40 years. Founded in 1973, LSCS remains steadfast in its commitment to student success and credential completion. Today, with 78,000 students in credit classes, and a total enrollment of more than 90,000, Lone Star College System is the largest institution of higher education in the Houston area and one of the fastest-growing community college systems in the nation. Dr. Steve Head is the chancellor of LSCS, which consists of six colleges including LSC-CyFair, LSC-Kingwood, LSC-Montgomery, LSC-North Harris, LSC-Tomball and LSC-University Park, seven centers, LSC-University Center at Montgomery, LSC-University Center at University Park, Lone Star Corporate College, and LSC-Online. To learn more visit LoneStar.edu.