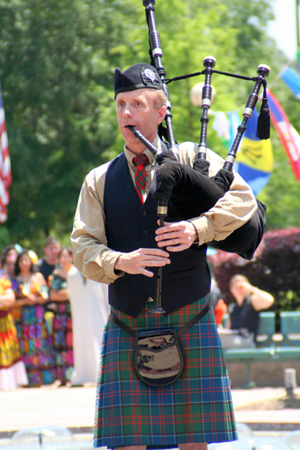 LSC-Montgomery history professor and chair of the the college's recently established World War One 100th Anniversary Commission, Craig Livingston, will perform World War I British Army bagpipe music during the college's World War I 100th anniversary celebrations.
2014 marks 100 years since the start of
the First World War. Lone Star College-Montgomery plans to spend the next four years commemorating each year spent fighting the "Great War".
"As we pass through each phase of the war, we're going to try to have one event that is exactly on the 100th anniversary," said Craig Livingston, professor of history at LSC-Montgomery and chair of the college's recently established World War One 100th Anniversary Commission.
The World War I 100th Anniversary Commission is planning an entire campaign of events scheduled throughout the fall and spring semesters from 2014-2018. Events will include lectures, dinner/movie nights, discussion groups, model airplane building, an entire elective course dedicated just to the history of the Great War, an essay contest, a two mile run and one mile walk, and more.
"My grandest idea would be a field trip to France in 2017," said Livingston. "A grand tour of all the battle fields, focusing in particular on the ones where the Americans were."
The celebration began last month with an insightful lecture, given by Livingston, on "The Deliberate Battle of the Marne," a battle fought in September 1914. Livingston will introduce the next lecture, given on Wednesday, October 22, at 2 p.m. by LSC-Montgomery English professor James Fons, discussing literature of the Western Front, in full uniform of the 16th Canadian battalion of 1915 and playing "The Bloody Fields of Flanders" on bagpipes. The lecture will be held in building G, room 102, and is free and open to the community.
The lectures and other smaller events are the core of this year's celebration, but the high points are the run and walk, the dinner and movie night, and the class devoted entirely to World War I history.
Under the command of Livingston, on Saturday, November 15, at 9 a.m., the World War I 100th Anniversary Commission will host a two mile run and one mile walk out behind the campus, a symbolism of the "Race to the Sea"- when the British, French and German armies tried to outflank each other before they reached the English Channel.
Additionally, Livingston, and LSC-Montgomery history professors William Morgan and Clayton Lust, will co-teach a World War I-themed course (HIST 2351) that will meet in the spring 2015 semester.
Three principles guide the Commission, according to Livingston. The first is to invite people to relate to the war in their own way and remember those that lived and died fighting it. The second is to enrich academics and promote social interaction. Lastly, Commission members and associated helpers will find unmatched professional development opportunities spanning four years of planning and program execution.
All events have been planned under the direction of the World War I 100th Anniversary Commission, which includes Livingston and other LSC-Montgomery professors, advisors, administrators, and staff.
For more information on World War I 100th Anniversary celebration events, contact Livingston at (936) 273-7329 or email craigL@lonester.edu.
LSC-Montgomery is located at 3200 College Park Drive, one-half mile west of Interstate 45, between Conroe and The Woodlands. For more information about the college, call (936) 273-7000, or visit www.LoneStar.edu/montgomery.
Lone Star College System has been opening doors to a better community for more than 40 years. Founded in 1973, LSCS remains steadfast in its commitment to student success and credential completion. Today, with 78,000 students in credit classes, and a total enrollment of more than 90,000, Lone Star College System is the largest institution of higher education in the Houston area and one of the fastest-growing community college systems in the nation. Dr. Steve Head is the chancellor of LSCS, which consists of six colleges including LSC-CyFair, LSC-Kingwood, LSC-Montgomery, LSC-North Harris, LSC-Tomball and LSC-University Park, seven centers, LSC-University Center at Montgomery, LSC-University Center at University Park, Lone Star Corporate College, and LSC-Online. To learn more visit LoneStar.edu.