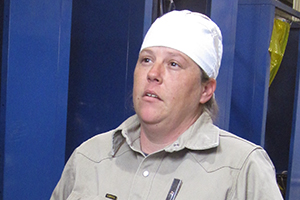 After receiving grand funds from Accelerate TEXAS, Jessica Hayden is well on her way to earning a welding certificate at Lone Star College-Conroe Center.
Lone Star College is placing students on a fast track to a new
career at little or no cost— thanks to the continuation of the Accelerate TEXAS Projects grant from the Texas Higher Education Coordinating Board (THECB), and last month a reception was held at Lone Star College-Conroe Center to celebrate the grant's contributions and accomplishments.
THECB, The Workforce Commission, Jobs for the Future (a national entity), and JP Morgan Chase were thanked for their participation in the program, and the appreciation of two of the grant's recipients was also displayed at the reception.
THECB created Accelerate TEXAS in response to the growing demand for adult basic education services at a time when Texas needs more of these students to transition to college-level degree and certificate programs. A total of 14 community colleges, including Lone Star College, now participate in Accelerate TEXAS via grant funding from THECB.
Accelerate Lone Star offers assistance with a number of high-demand workforce programs for underprepared students. The program combines intensive advising, college and career readiness, contextualized support skill classes, and selected workforce certificates that move students through education to employment in just a few months. This program is funded and supported by THECB and The Workforce Commission, and was recently awarded $500,000 by JP Morgan Chase to train underemployed adults.
"We focus on transitioning students not only into jobs, but also to other college-level classes that will give them an even greater advantage when trying to increase their employability," said Martha Neely, program director for the Accelerate Lone Star program. "We also work closely with Jobs for the Future and area employers to increase the success rates for students moving into the workforce upon completion. Now, with the fund that JP Morgan Chase awarded to us, we will be able to train more people in the manufacturing sector."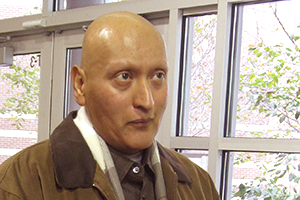 Jorge Ochoa receives hands-on training and intensive, on-site advising while earning a machining technology certificate at Lone Star College, thanks to grant funds he received from Accelerate TEXAS.
"We are investing in the program to not only expand it to other campuses and expand the types of certificates offered," said Carolyn Watson, vice president and relationship manager of global philanthropy at JP Morgan Chase, "but to also build an infrastructure for this program at the college."
Jorge Ochoa, a machining technology student at LSC, and a singe father of two teenage boys, is extremely thankful for the opportunities this grant has presented to him. He was laid off from his manufacturing job and was having a difficult time finding work. He went to the TWC and they encouraged him to apply for the grant and enter the program.
"My advice to someone in my position is: don't be discouraged like I was," Ochoa said. "You can find the time because this is necessary. This is something you need, and when you need something, you have to set time apart to do it."
LSC-Conroe Center welding student Jessica Hayden can't show her appreciation enough for what this program has enabled her to do. She, too, was laid off and has three nieces to support.
"I couldn't work for minimum wage," Hayden said. "But I didn't know how I was going to afford it, or if I even qualified; but with the phenomenal instructors and the help of the grant, I'm on my way and almost there. There is a light at the end of the tunnel."
According to Georgetown University's Center on Education and the Workforce, at least 60 percent of Texas jobs will require a career certificate or college degree by 2020, and 44 percent of Texans over age 25 have never been to college, let alone earned a credential.
So far, Accelerate TEXAS has served 551 students at LSC-Conroe Center, LSC-North Harris, LSC-Victory Center, LSC-University Park, and LSC-Tomball campuses. The program has a total passing rate of 87 percent among those who first began taking classes.
A variety of career certificates are available through the grant, including certified nurse aide (CNA), accounting assistant, phlebotomy, welding, machining, roustabout or floor-hand, automotive technician, and patient care technician (PCT).
Applicants complete an adult basic education (TABE) test, which is offered at different LSC locations and local Workforce Solutions offices. Candidates are selected based on the range in which their test score falls. Additional requirements for all healthcare certificates include a background check, immunizations, and a Social Security card.
For more information, visit www.LoneStar.edu/acceleratelonestar; or contact Martha Neely, grant project director at LSC-Conroe Center, at Martha.L.Neely@LoneStar.edu, or (936) 521-4530; or Ester Stokes, advisor at Lone Star College-University Park, at Irene.E.Stokes@LoneStar.edu, or (936) 521-4552.
LSC-Montgomery is located at 3200 College Park Drive, one-half mile west of Interstate 45, between Conroe and The Woodlands. For more information about the college, call (936) 273-7000, or visit www.LoneStar.edu/montgomery.

Lone Star College System has been opening doors to a better community for more than 40 years. Founded in 1973, LSCS remains steadfast in its commitment to student success and credential completion. Today, with 78,000 students in credit classes, and a total enrollment of more than 90,000, Lone Star College System is the largest institution of higher education in the Houston area and one of the fastest-growing community college systems in the nation. Dr. Steve Head is the chancellor of LSCS, which consists of six colleges including LSC-CyFair, LSC-Kingwood, LSC-Montgomery, LSC-North Harris, LSC-Tomball and LSC-University Park, seven centers, LSC-University Center at Montgomery, LSC-University Center at University Park, Lone Star Corporate College, and LSC-Online. To learn more visit LoneStar.edu.