Start the new year with lessons on traditional Chinese medicine, genetics and genealogy as well as a road trip for science experiments and a funeral museum visit in Lone Star College-CyFair's weekly programs this January.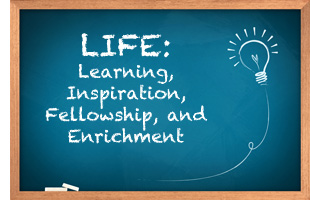 The Learning, Inspiration, Fellowship, and Enrichment (L.I.F.E.) programs are free and held Wednesdays from 10:00 - 11:00 am in the library (Room 131 unless otherwise noted) at 9191 Barker Cypress.
Jan. 7 — No Workshop Held
Jan. 14 — "Happify" Your Chi
Dr. Mary Chen wields her acupuncture needles and herbal concoctions to open your mind to traditional Chinese medicine.
Jan. 21 — Genetics and Genealogy
As Ancestry.com says, "Family history is in our DNA. What's in yours?" Mick Stafford guides us on our quest for who are our ancestors using modern DNA testing and not so modern immigration records.
Jan. 28 — Algae and Algorithms
Join the Academy for Lifelong Learning (ALL) for a trip to Lone Star Montgomery's Biotechnology Institute. From 9:00 – 11:00 am, Dr. Daniel Kainer will be our host showing his students' latest and greatest science experiments. We'll meet at Willie's for lunch on your own and then head to the National Museum of Funeral History in the afternoon. The cost for the museum is $8 (exact cash preferred, checks acceptable.) For directions and additional details, call Claire Gunnels at 281.290.3241.
Check out past programs at lsccyfairlife.blogspot.com. Call the library at 281.290.3214 for L.I.F.E. program information or go online to LoneStar.edu.