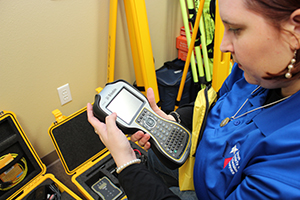 An education in land surveying and mapping at Lone Star College-Montgomery helps students like Amy Maddox land a career in industries such as oil and gas.
While a career in land surveying and mapping technology may
no longer be a viable profession to become President of the United States – as it once was with our Founding Fathers, recent technological changes such as drones, satellite imaging, and global positioning systems (GPS) have made this career choice an exciting – and challenging – one for students at Lone Star College-Montgomery.
History tells us that even in the days before land surveyors like George Washington, Thomas Jefferson and Abraham Lincoln, basic surveyance occurred with the practice of walking boundaries or measuring angles to determine location. Todays land surveyors, however, work with much more sophisticated technology than just the tripod on the side of the road, like their predecessors used even a generation ago.
Nico Marina, director of LSC-Montgomery's 10-year-old land surveying and mapping technology program, says that today's surveyors utilize mathematics and up-to-date technology to measure and map the environment for engineering and architectural projects in commercial and residential settings.
The land surveying and mapping technology program at LSC-Montgomery is helping students launch lucrative careers in this field, far beyond any scope of their imagination.
"Land surveyors can work anywhere," said Nico Marina, program director of land surveying development at LSC-Montgomery. "They can be in the office mapping with sophisticated software, or working in the field with the latest GPS technology."
With an education in land surveying and mapping, the variety in career choices goes beyond the limits of the sky, Marina says.
Just a few of those professions include hydrographic (maritime), photogrammetry, geodesy (GPS and mapping), forensic (crime investigation), construction surveyor, and more.
"Forensic surveying is always a steadily growing field," Marina said, "as is the field of game development, using very advanced laser scanners to incorporate locations into games."
Offered only at the LSC-Montgomery campus, the associate of applied science degree (AAS) in land surveying and mapping technology is one of only a handful available in the state. Students can also take the skills that they learn in the AAS program and apply them in a bachelor's degree at a four-year university.
The college also offers a level I marketable skills award certification, which can be acquired after the completion of 11 credit hours, and a level II and III certified survey technician (CST) certification, which can be acquired after completing 33 to 36 credit hours respectively.
The Texas Board of Professional Land Surveying requires that aspiring professional surveyors earn a bachelor's degree, preferably in a survey related field, before taking the state-licensing exam. While some students aspire to earn their surveyor in training (SIT) licenses and work for surveying firms as technicians, others pursue bachelor's degrees at popular universities such as Sam Houston State University, Texas A&M University Corpus Christi, or University of Houston-Downtown.
For former student Amy Maddox, the lure of an intriguing career encouraged her to enroll in the program after completing a degree at Sam Houston State University.
"The geography related job I was in was not the path I wanted to take," Maddox said. "So I attended a presentation at LSC-Montgomery on the land surveying program and I was highly fascinated. During my first class, and with every class after that, I was excited to learn about land surveying. Never before in my life had I been so excited about going to school and becoming a registered public land surveyor!"
Maddox is working as a drafting technician for Directional Project Support, servicing the oil and gas industry by taking field gathered data and turning them into readable, two-dimensional paper maps. Land surveying careers in the oil and gas industry are flourishing she says, and those coming into it with an education in the field are definitely at an advantage.
For more information on the land surveying and mapping technology program, visit
www.LoneStar.edu/land-surveying-tehnology-dept-montgomery
.
LSC-Montgomery is located at 3200 College Park Drive, one-half mile west of Interstate 45, between Conroe and The Woodlands. For more information about the college, call (936) 273-7000, or visit www.LoneStar.edu/montgomery.

Lone Star College System has been opening doors to a better community for more than 40 years. Founded in 1973, LSCS remains steadfast in its commitment to student success and credential completion. Today, with 78,000 students in credit classes, and a total enrollment of more than 90,000, Lone Star College System is the largest institution of higher education in the Houston area and one of the fastest-growing community college systems in the nation. Dr. Steve Head is the chancellor of LSCS, which consists of six colleges including LSC-CyFair, LSC-Kingwood, LSC-Montgomery, LSC-North Harris, LSC-Tomball and LSC-University Park, seven centers, LSC-University Center at Montgomery, LSC-University Center at University Park, Lone Star Corporate College, and LSC-Online. To learn more visit LoneStar.edu.