Four LSC-Tomball German students were recently inducted into the college's chapter of Epsilon Phi Delta,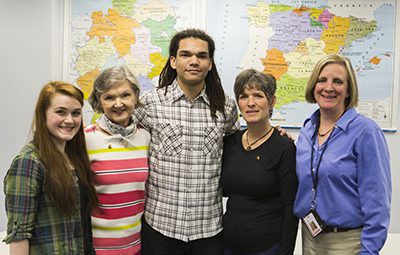 the nationally recognized Honor Society for Community College Students of German.
According to Brenda Bauske, LSC-Tomball adjunct German instructor and faculty advisor for German Club, students qualify for the honor society by taking at least one semester of German, maintaining a 3.5 overall average in German courses, and giving five hours of participation or service to the college German Club.
When Bauske instituted Epsilon Phi Delta at LSC-Tomball during the Spring 2013 semester, it was the first such chapter in the state of Texas. The organization recognizes the outstanding academic achievement of learners of German. It was founded to reward scholastic achievement in the study of German and to promote interest in the study of German language, literature, and culture.
LSC-Tomball's German program is a popular one. The student organization Deutschklub (German Club) stirs genuine passion in its student participants, including this year's four honor society inductees. Deutschklub actively participates in both German-themed festivals hosted by the Tomball Sister City Organization and the city of Tomball each year as well as hosts its own Oktoberfest event on campus in the fall. "The students in my German classes and in Deutschklub know how to work hard but play hard, too," Bauske said. "I find it admirable that they put in so much effort to not only learn the language but also promote the culture on campus. The members of the German Honor Society are the cream of the crop; they are engaged in every aspect of German study here on campus."
The recognized students are, from left, Cheyenne Stokes, Angela Bush, Jeshua Johnson, and Penny Patchett. Brenda Bauske appears on the far right.