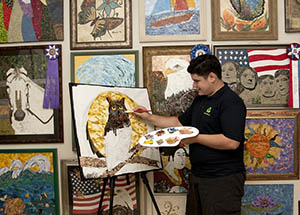 Grant Manier, special needs advocate and one of the most intriguing and captivating young Eco-Impressionists of today, will have his works on display, and he will speak on the awareness of special needs talents, at Lone Star College-Montgomery on Wednesday, February 11, at 10 a.m. in the Performing Arts Center.
Local Artist to Share Special Needs Challenges and Gifts at LSC-Montgomery
CONROE (February 11, 2015) – In the often-misunderstood world of autism, Grant Manier, special needs advocate and one of the most intriguing and captivating young Eco-Impressionists of today, is a amazing example of how this complex disorder can grant some of the most amazing gifts­–a window of imagination and the artistic mind that allows him the ability to create stunning collage masterpieces using thousands of pieces of torn colored, shaped and textured paper from recycled calendars, magazines, glitter paper, puzzle pieces and more.
Manier will have his "COOLAGES" on display, and he will speak on the awareness of special needs talents, at Lone Star College-Montgomery on Wednesday, February 11, at 10 a.m. in the Mainstage Theatre in the Performing Arts Center, building D.
Manier, a 19-year-old high school student at Focus Academy- a center dedicated to individuals with educational needs such as his, doesn't understand what the hype is about and isn't sure what to think of all this recognition for something he didn't know was so unique.
"I am a little overwhelmed and honored all at the same time," Manier said. "I thought everybody could do this. So I consider my autism a gift, and I don't think anyone should be denied the right to know they have autism–so that they can learn from it, and expand on it if possible."
At the age of five, his mother, Julie Coy, couldn't make sense of her son's atypical behavior in comparison to his older brother. It was upon Manier's diagnosis of Asperger's syndrome, a form of autism, that she was finally able to understand an otherwise intelligent child who found comfort in engaging in a rare and repetitive activity that would become his muse.
Autism is a range of neurodevelopment disorders often characterized by social impairments, communication difficulties and restricted, repetitive patterns of behavior.
What Manier and his mother didn't know was that his passion for paper– coloring, drawing, writing, and the simple repetitive act of tearing– would not only became a comfort in a distinctive culture, but would also be a therapeutic, artistic outlet.
"His tearing was into little piles of orchestrated colors," Coy said. "We didn't know what to do with it. I knew about collaging, but as a single mom, I was too busy to focus on anything other than letting him express himself and how he felt."
In his early teens, Manier began migrating to video games to occupy his time. Upon the start of homeschool, Coy decided to put art back into his curriculum to keep him away from the television. At the age of 14, Manier finished his first masterpiece, a sun God that, at first glance, appears to be a painting. Naive to the art world, and her son's art potential, that work that she would have otherwise sold for $100, and is now insured for $7,500.
Manier says his inspirations come from a number of places, including his travels, core monuments, animals, the Internet, and his mother, who is also his manager and partner-artist, and her friends.
Responsible for many things because Manier doesn't drive, Coy admits that she is everything from manager to janitor. She handles everything from scouting out the materials he needs, talent promotion and event scheduling, right down to cleaning up after his work is complete.
"We travel to a number of shows, conferences, galas and fundraisers," Coy said. "But we even accommodate press and chamber of commerce visitors that may come to the house, where our dining room has become his gallery."
Not only is their home the gallery, but also, it turns out that Manier's mastery is done best at home in front of the television, though he rarely looks up from his work. Coy indicates that her son enjoys listening to the sounds it emanates while creating these pieces that are so effortless to him.
Manier's comfort in tearing magazines, wallpaper, calendars, pictures, posters, greeting cards and even peeling print off of puzzle pieces, has become a form of self-expression in many of his "COOLAGES" that have led the way for Eco-Art awareness with visual exhibits and demonstrations in schools and organizations, and have garnered him a number of art awards and recognitions.
Just a few of these recognitions include best of show in Rancho Del Lago 2011 Art Festival, Houston Mayor's Disabilities Youth Advocate and Volunteer of the Year for 2011-2012, Austin Rodeo Eco-Art grand champion award in 2011 and 2012, Texas State Senate recognition for his achievements in May 2013, Waste Management Overall Student Eco-Art winner, Houston, in 2013, High School Congressional Art Winner for the District of Texas (at the U.S. Capitol), 2014 Governor's Committee National Disability Employment award, and 2014 Kohl's Care Scholarship regional winner.
Manier and Dr. Temple Grandin, the worlds most accomplished and well known author, speaker, and advocate living with autism, have teamed up to create a special talents calendar containing the works and stories of 12 amazing artists with disabilities, in the hopes of using their challenges to show the world that they are different, not "less."
"I have become a voice for those you cannot hear," Manier said. "I lead by example for those you cannot understand. I am doing my part to raise awareness of environmental responsibility to save our planet, and of special needs talents through my gift as an Eco-Impressionist."
For more information about Grant Manier, visit grantsecoart.com, or follow him on Facebook at https://www.facebook.com/GrantsEcoArt
LSC-Montgomery is located at 3200 College Park Drive, one-half mile west of Interstate 45, between Conroe and The Woodlands. For more information about the college, call (936) 273-7000, or visit www.LoneStar.edu/montgomery.
Lone Star College System has been opening doors to a better community for more than 40 years. Founded in 1973, LSCS remains steadfast in its commitment to student success and credential completion. Today, with 78,000 students in credit classes, and a total enrollment of more than 90,000, Lone Star College System is the largest institution of higher education in the Houston area and one of the fastest-growing community college systems in the nation. Dr. Steve Head is the chancellor of LSCS, which consists of six colleges including LSC-CyFair, LSC-Kingwood, LSC-Montgomery, LSC-North Harris, LSC-Tomball and LSC-University Park, seven centers, LSC-University Center at Montgomery, LSC-University Center at University Park, Lone Star Corporate College, and LSC-Online. To learn more visit LoneStar.edu.