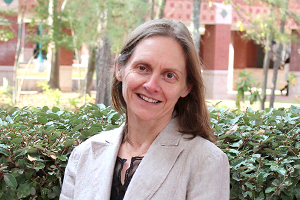 LSC-Montgomery adjunct faculty members Clayton Lust, Jocelyne Laing, Dr. Patricia Schwartz, and Mead McLean were recently recognized with the college's annual Adjunct Faculty Excellence Award.
CONROE (
February 12, 2015
) – Lone Star College-Montgomery is proud to recognize Clayton Lust, Jocelyne Laing, Dr. Patricia Schwartz, and Mead McLean as Adjunct Faculty Excellence Award recipients in honor of their dedication, expertise, and accomplishments on campus, for the 2014-2015 academic year.
"These adjunct faculty members are significant leaders both in and out of the classroom, key components of what makes LSC-Montgomery a great place for students to learn," said Dr. Rebecca Riley, interim president of LSC-Montgomery. "We're proud of our first-class professors who work creatively and diligently to support the aspirations of our students."
Each year LSC-Montgomery formally recognizes the best in higher education with Adjunct Faculty Excellence Awards, chosen through an internal selection process.
For Clayton Lust, professor of history at LSC-Montgomery, this award is a true blessing for him.
"This time last year I was in a coma and there were questions about whether or not I would make it, so this is a happy moment for me." Lust said. "I try to look at student success as more than just in the classroom; those small victories outside of the class that we educators don't see are precisely why I wanted to go into teaching in the first place."
Lust earned his bachelor's and master's degrees in history from the University of Houston, where he is currently working on his doctoral work in the area of African American history, with the hopes of publishing his dissertation by the end of 2015.
Another recipient of the Adjunct Faculty Excellence Award is Jocelyne Laing, English for speakers of other languages (ESOL) professor, who began working at LSC-Montgomery in the fall of 2011.
"I am very flattered to receive this award in recognition of the work that I do with my students every semester," Laing said.
Laing, the mom of two avid soccer players, is a French native from the small village of Lannilis. While on a student assignment in Stonehaven, on the northeast coast of Scotland, she met her husband and they moved to Houston in the summer of 2007.
Registered nurse, certified pediatric nurse practitioner (PNP), and nursing professor Dr. Patricia Schwartz was also recognized.
"It is quite an honor to receive this award that recognizes my efforts, not only from my colleagues, but also from my students," Dr. Schwartz said. "The nursing faculty at LSC-Montgomery are the most welcoming of any of my teaching experience, and the joy of nurturing a future nurse is why I teach."
Dr. Schwartz, who holds her bachelor's degree and doctorate in nursing, stays very active in many organizations. She has served as director of nursing research at Texas Children's Hospital, and adjunct professor at The University of Texas Health Science Center in Houston, Baylor College of Medicine, and Rutger's, the State University of New Jersey. Dr. Schwartz also continues to stay active on many community boards and committees.
After just two semesters of teaching, and his first year in Houston, art professor Mead McLean was also honored with the Adjunct Faculty Excellence Award.
"I am honored to get this award so early in my teaching career," Mead said. "To see huge strides in my work validated in my first teaching job is deeply moving."
Most recently from the small mountainous town of Boone, North Carolina, McLean, who received his bachelor's and master's degrees from Savannah College of Art and Design, relocated to Houston where he continues to create new art, conducts art lessons on Youtube, writes art instruction manuals, trains in Tai Chi, and improves his teaching skills.
LSC-Montgomery is located at 3200 College Park Drive, one-half mile west of Interstate 45, between Conroe and The Woodlands. For more information about the college, call (936) 273-7000, or visit www.LoneStar.edu/montgomery.
Lone Star College System has been opening doors to a better community for more than 40 years. Founded in 1973, LSCS remains steadfast in its commitment to student success and credential completion.  Today, with 78,000 students in credit classes, and a total enrollment of more than 90,000, Lone Star College System is the largest institution of higher education in the Houston area and one of the fastest-growing community college systems in the nation.  Dr. Steve Head is the chancellor of LSCS, which consists of six colleges including LSC-CyFair, LSC-Kingwood, LSC-Montgomery, LSC-North Harris, LSC-Tomball and LSC-University Park, seven centers, LSC-University Center at Montgomery, LSC-University Center at University Park, Lone Star Corporate College, and LSC-Online. To learn more visit LoneStar.edu.