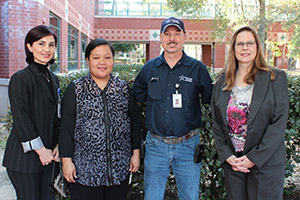 Four key staff members at Lone Star College-Montgomery were recently recognized with the annual Staff Excellence Award. Pictured from left to right are Michael Roberts, maintenance technician; Janis Bloecher, advisor; Cheri-Tee Ben, scheduling specialist; and Mozhgan Pourasadollah, learning center specialist.
Staff members at Lone Star College-Montgomery are a key
component to ensuring student success. Recently, four members, Janis Bloecher, Cheri-Tee Ben, Mozhgan Pourasadollah, and Michael Roberts, were recognized for their outstanding service and achievement with the college's annual Staff Excellence Award.
"These individuals set the benchmark for the Lone Star College community," said Dr. Rebecca Riley, interim president of LSC-Montgomery. "I am proud to be part of a team of such loyal colleagues, focused and dedicated to our students' success,"
For Janis Bloecher, that hard work and dedication began in 2007 when she accepted a role in advising at LSC-Tomball. In 2009, she was chosen to be on the implementation team for iStar, the college's enterprise resource management tool. Upon successful implementation in 2011, she again accepted a role in advising, at LSC-Montgomery, where she is committed to student success with the readiness to help them build a plan for their educational goals.
"It is very rewarding to be recognized by my peers with this award," Bloecher said. "I work with a great group of people, which has given me the opportunity to work closer with faculty."
In addition to her work as an advisor, Bloecher-who received her bachelor of arts degree in liberal studies with an emphasis on education and psychology from Cal State University Northridge-is involved in training and troubleshooting iStar issues for the campus, and also approves graduation requirements for students.
Scheduling specialist Cheri-Tee Ben is the campus administrator for R25, LSC-Montgomery's room scheduling system. Prior to holding the job of optimizing space utilization and special event room reservations, she worked in student services for nine years as a work-study student, as well as other positions.
"An administrator once asked me if I wanted to be an admissions specialist forever," Ben said. "I thought to myself, what's wrong with that? I have realized that no matter where I am in my career, there is always room to grow."
Ben moved to Texas in 2004 from the tiny islands of Micronesia, just a month after graduating from high school. She landed on the doorstep of LSC-Montgomery to attend college, and has never left. She graduated from LSC-Montgomery in 2007 with an associate of arts degree and is now pursuing her bachelor's degree in general business administration at the University of Houston-Downtown.
"Receiving this award is a humbling experience, and a great way to start off 2015," said Ben. "My hopes are to continue to grow professionally and be an asset for my team, and the college."
For learning center specialist Mozhgan Pourasadollah, she has had many challenges to overcome in her life, but she has reaped the rewards of her tenacity. As a bilingual expatriate from Iran, she thought medical school was the path for her until she found her talent and interest in business. With a degree in business, she held various positions through her career, ranging from office coordinator to manager.
In 2007, Pourasadollah moved to the United States in search of achieving new goals, only to find the language barrier had placed a vale on her current abilities. Tackling English for speakers of other languages (ESOL), and other classes at LSC-Montgomery, she was able to achieve bilingualism, receive an education, and secure employment on campus.
"This award is an honor that shows me I am appreciated, and I am reminded of the reason I give my best to my students and colleagues," Pourasadollah said. "I appreciate the opportunity to work in a setting where people care about quality and commitment."
Currently enrolled in the MBA program at Our Lady of the Lake University and maintaining full-time employment at LSC-Montgomery, Pourasadollah has learned the value of being involved, the passion for leading by example, and the importance of excelling in order to maintain a better life.
As a former United States Navyman, LSC-Montgomery's heating, ventilating and air conditioning (HVAC) maintenance technician Michael Roberts is no stranger to selfless service. After three years in the armed forces, Roberts relocated to Texas where he chose a career in the electrical field. Upon achievement of his journeyman electrical and HVAC licenses, he settled in to work at Compaq/Hewlett Packard for 18 years, where he learned the trade of electrical construction in chemical plants and refineries.
After six years at LSC-Montgomery, he received acknowledgement of his hard work filled with pride, purpose, and professionalism by receipt of this award.
"This means so much to me because I try to give 100 percent all the time, and go the extra mile," Roberts said. "LSC-Montgomery is a great place to work because of the fantastic people that work here!"
LSC-Montgomery is located at 3200 College Park Drive, one-half mile west of Interstate 45,between Conroe and The Woodlands. For more information about the college, call (936) 273-7000, or visit www.LoneStar.edu/montgomery.

Lone Star College System has been opening doors to a better community for more than 40 years. Founded in 1973, LSCS remains steadfast in its commitment to student success and credential completion. Today, with 78,000 students in credit classes, and a total enrollment of more than 90,000, Lone Star College System is the largest institution of higher education in the Houston area and one of the fastest-growing community college systems in the nation. Dr. Steve Head is the chancellor of LSCS, which consists of six colleges including LSC-CyFair, LSC-Kingwood, LSC-Montgomery, LSC-North Harris, LSC-Tomball andLSC-University Park, seven centers, LSC-University Center at Montgomery, LSC-University Center at University Park, Lone Star Corporate College, and LSC-Online. To learn more visit LoneStar.edu.