Make plans to attend a lively and informative April 9 author's event titled Open Dialogue: Freedom of Speech and Diversity and featuring a community reading, Q&A and book signing at Lone Star College-CyFair.
"We treasure freedom of speech as one of our nation's great achievements, and yet we know speech often offends. Our interactions in education, business, travel, and everyday life can bring offensive language and conflicting views to light. The ability to cope successfully with such conflicts and learn from them is important for us all," said Roberta Short, LSC-CyFair English professor and event coordinator. "This April, we welcome Dr. Tamara Valentine, whose textbook, 'Language and Prejudice', presents many of the ways in which discriminatory and offensive concepts are embedded in everyday language."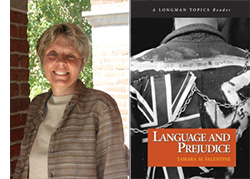 Author of "Language and Prejudice", Valentine publishes articles and presents papers on topics related to English as an International Language, South Asian languages and linguistics, discourse analysis, language and gender, and cross-cultural communication. This sociolinguist, who has researched in India and travelled extensively in South Asia, Southeast Asia and Eastern Europe, is director of the Honors Program and professor of linguistics at the University of Nevada.
Valentine will read from her work at 7 p.m. in the Main Stage Theatre located in the Center for the Arts building at 9191 Barker Cypress.  Following the reading, the audience is welcome to participate in a Q&A and book signing. Books will be available for sale.
In addition to this free community event, the day will start off with a Freedom of Speech and Diversity interdisciplinary lecture and panel discussion with faculty and students. Then LSC-CyFair Professor Mark Thorsby will lead a Freedom of Speech in Practice roundtable discussion with Valentine.
Co-sponsoring this event are the LSC-CyFair Honors College, LSC-CyFair Branch Library, Windows on the World and the college's Business and Communication Studies Division. For event information, email Roberta.H.Short@LoneStar.edu or call 281.290.3929.