Four Lone Star College-CyFair students - Ya Xing Li, Estefania Palacios, Gabriela Pineda and Meghan Nicole Turpin – receive Didwell-Liebling Opportunity Scholarships for the spring 2015 semester.
"Our scholarship students continue to inspire us by their good grades and their perseverance to obtain an education," said Marian Liebling, who along with her husband Scott established this scholarship in 2012 in honor of their parents and family.
"I tell the students that all we ask of them in return, is that they use their education and energies to give back to their community when they are done," said Scott Liebling.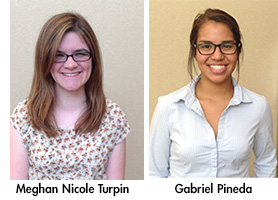 While Pineda was born in Nevada and raised in Houston, she is proud of her Hispanic heritage and has the mindset to work hard in all she does as a full-time student with two jobs. 
"I do have fun time to time, but I tie it in academically in student organizations like the Honors College, Student Initiative for Reasoning, Phi Theta Kappa and CRU," said this 19-year-old who plans to transfer to the University of Houston and double major in psychology and sociology. "I actually want to become a teacher at my high school alma mater (Cy-Falls High School and possible prospects include LSC-CyFair and UofH) and then after a few years of teaching, I want to possibly open my own therapeutic practice."
Pineda said she knows money is not everything, but a financial helping hand gives her a sense of peace and helps her parents feel a little more at ease.

"This scholarship has given me a ticket to my future or at least an opening to a new beginning," she said. "I know I can achieve my goals regardless, but scholarships help students tremendously."
Turpin, who received the Didwell-Liebling's scholarship in memory of a benefactor and friend to education, Patrick Morris, said easing someone's burdens financially is a life-changing thing.

"At one point in my life, college was not a concern of mine. I knew my grades were good enough and my parents had all the money I would need saved up," she said. "But then, the unthinkable happed – my dad lost his job, and with it, the money I would need."
Turpin has always wanted to teach and knows without a shadow of a doubt, thanks to a child guidance class in high school and now working in a pre-school, that she will be a kindergarten teacher.
"To change children's lives the way I want to, I need my own classroom, my own space, to foster growth," she said. "In order to have that, I need to finish my education and that is why this scholarship means so much."
For information on the Didwell-Liebling scholarship, email Tranell.Milburn@LoneStar.edu. For information on additional scholarships available at LSC-CyFair, go to LoneStar.edu/scholarships.