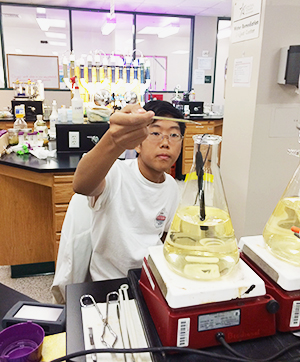 The Woodlands College Park High School student Andrew Kim is just one of many local high school students that utilizes assistance from LSC-Montgomery programs, such as the Lone Star College Biotechnology Institute, to help further their high school education.
It was the faint iridescent glow of algae in the water in the dark
of night that helped to guide former Apollo 13 astronaut James Lovell and his flight crew home safety during World War II. Had it not been for a phosphorous trail churning beneath a passing ship's propellers that could be seen for miles, a series of unfortunate events that left their fighter jet malfunctioning would have been catastrophic. Today, the local growth of two commercially important algae strains, Nannochloropsis occulata and haematococcus pluvialis, is providing one local ninth grader, and the Lone Star College-Montgomery biotechnology lab that assisted him in its cultivation, a grand award, nationwide recognition, and navigation into a glowing future of continued scientific discoveries.
The Woodlands College Park High School ninth grade student Andrew Kim's algae cultivation project was just one of more than 5,000 science projects that was judged earlier this year by representatives of the Education for Tomorrow Alliance's 25th annual SCI://TECH Expo at the Lone Star Convention and Expo Center in Conroe. Kim was awarded one of two grand prizes in the ninth grade division for his life science project Salinity Effect of Nannochloropsis.
"My project studied algae cultivation with multiple types of saline environments," Kim said. "It utilized four basic phases of the experiment, including regular salinity impact, high salinity impact and the antioxidant production in response to large amounts of light."
Kim was first introduced to the Lone Star College Biotechnology Institute (LSCBI) and its director, Dr. Daniel Kainer, by Kim's father and Huntsman Corporation scientist, Dr. Daniel Kim, who recommended Kim contact Dr. Kainer to gain a broader knowledge of algae.
"The college's biotechnology research lab was a critical part of my project," expressed Kim. "There are so many brilliant ideas being passed around in there that can't be experienced or interpreted anywhere else. The hands-on experience with special equipment and methods showed me how much can be studied within the scientific world."
With a dedicated project lab on campus used to support high school and college internships and science fair projects, as well as enabling educational experiences for students centered around original scientific research, the LSC-Montgomery biotechnology project lab became an asset that facilitated Kim's success. Dr. Kainer and lab assistant Tim Hall began mentoring Kim, guiding him along the baseline of the experiment, providing instruction regarding the biological properties of algae, as well as suggestions regarding potential directions for his developing project.
The LSC-Montgomery biotechnology program offers a two-year associates of applied science (AAS) degree, teaching the skills necessary to become a biotechnology laboratory technician or transfer to a four-year university, and a one-year advanced technical certificate (ATC), with the hands-on skills necessary for students who already have a four-year degree.
Dr. Kainer explained that because the lab currently has a number of projects going on under the algae umbrella, anything from enhancing growth rates to harvesting and oil extraction, students like Kim are attracted to it. One of the lab's main focuses is to simulate and advance the algae industry's processes and best practices, but on a smaller scale.
"One of the best ways to teach students science is for them to just do it," Dr. Kainer said. "The more they research and work on projects in the lab, the more immersed in science they become, with a higher engagement of critical thinking, which are all the things you want in science education. They also get an experience that reflects what scientists do every day, so they know what it's like to be a scientist."
However, Kim's algae growth didn't start or stop with this project! Last year his essay Algae: A Truly Green Fuel to Power the World, revolving around his Sci://Tech science fair project, won him a trip to New York City as one of only two Young Naturalist Award winners for the American Museum of Natural History. Kim also recently traveled with twenty-one other students from the Academy of Science and Technology to the Intel International Science and Engineering State Fair and earned fourth place in the plant science category. His algae project also got him invited, as a finalist, to the International Sustainable World Project Olympiad (ISWEEP) competition-taking place in Houston in May.
The Education for Tomorrow Alliance's SCI://TECH offers 14 science, technology, engineering and math competitions and events and is one of the largest regional science fairs in the nation, with state and international competitions.
For more information on the biotechnology department at LSC-Montgomery, contact Dr. Kainer at
dkainer@lonestar.edu
or (936) 273-7060.
LSC-Montgomery is located at 3200 College Park Drive, one-half mile west of Interstate 45, between Conroe and The Woodlands. For more information about the college, call (936) 273-7000, or visit www.LoneStar.edu/montgomery.

Lone Star College System has been opening doors to a better community for more than 40 years. Founded in 1973, LSCS remains steadfast in its commitment to student success and credential completion. Today, with 78,000 students in credit classes, and a total enrollment of more than 90,000, Lone Star College System is the largest institution of higher education in the Houston area and one of the fastest-growing community college systems in the nation. Dr. Steve Head is the chancellor of LSCS, which consists of six colleges including LSC-CyFair, LSC-Kingwood, LSC-Montgomery, LSC-North Harris, LSC-Tomball and LSC-University Park, seven centers, LSC-University Center at Montgomery, LSC-University Center at University Park, Lone Star Corporate College, and LSC-Online. To learn more visit LoneStar.edu.