Lone Star College-CyFair's weekly programs this May include discussions on the pet adoptions, improvisation, easier meal times and ergonomics.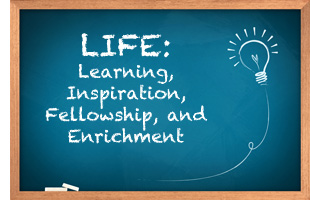 The Learning, Inspiration, Fellowship, and Enrichment (L.I.F.E.) programs are free and held Wednesdays from 10 a.m. to 11 a.m. in the library (Room 131 unless otherwise noted) at 9191 Barker Cypress.
May 6 — Pet Adoption with Houston SPCA
Meet Lisa Rotter, Community Outreach Manager, Houston Society for the Prevention of Cruelty to Animals, who will help us learn about their various life-saving pet programs and tell us why it is so important to adopt a pet from a shelter. They even have their own TV show: Animals Cops: Houston on Animal Planet
May 13 — Behold Improv: Getting to the Power of Yes!
Discover the magic of improvisation as Dianah Dulany, owner and producer of ComedySportz, takes the concept of persuasion to a fun and fabulous level. If you're game, join the fun and learn some improvisational techniques.
May 20 — Cookin' with Kim
Amazing Chef Kim loves to make meal time easier. Her home-based kitchen in Cypress is a practical solution for those of us who just don't want to cook every night. Enjoy fabulous cooking (cookinwithkim.com).
May 27 — Sit and Be Fit: Ergonomics for a Healthier You
Dr. Trang Nguyen of Win Chiropractic demonstrates simple, safe fitness exercises to do while seated. She will also address good posture and stress relief of the neck and back.
Call the library at 281.290.3214 for L.I.F.E. program information or go online to LoneStar.edu.