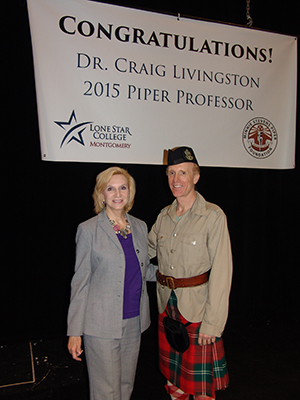 Lone Star College-Montgomery history professor Dr. Craig Livingston (right) is congratulated by new LSC-Montgomery president, Dr. Rebecca Riley, during the college's announcement of Dr. Livingston's selection as a 2015 Piper Professor.
LSC-Montgomery history professor Dr. Craig Livingston has
been selected as a 2015 Piper Professor, a statewide award that recognizes professors who excel in their teaching dedication, by the Minnie Stevens Piper Foundation.
Begun in 1958, ten awards of $5000 each are made annually to professors from two and four-year public and private colleges and universities in Texas, for their superior teaching efforts. Selection is made based on nominations through each college's Presidents office and submitted by each college or university.
Dr. Livingston, who came to LSC-Montgomery as a founding faculty member in 1995, teaches American and military history. Just a few of his exemplary principles of extended learning include his guided tour of Mississippi and Tennessee Civil War battlefields, and a recently produced documentary on World War I by his Honors class.
Born in Utah but raised in Los Angeles, Dr. Livingston served a two-year mission in Sweden for the Church of Jesus Christ of Latter-day Saints after graduating from high school in 1978. Upon his return, he attended Brigham Young University, enrolled in ROTC, and received his master's degree in 1985. After graduation, he served three years in the 25th Infantry Division of the United States Army and received qualifications in expert infantry and ranger.
Dr. Livingston received a Ph.D. in American History from Temple University in 1991.
He has won significant publicity for the college with teaching projects such as his student built World War II combat gliders and recreation of the Union Army's 6th Corps march to Gettysburg.
Dr. Livingston, who often plays bagpipes for college events, founded Lord Stirling's Fifes and Drums, an award-winning corps that keeps alive musical traditions of the 18th and 19th century.
He is a three-time recipient of the Lone Star College Faculty Excellence award, has won five LSC writing awards, and published his first book, From Above and Below: The Mormon Embrace of Revolution, 1840-1940 (Greg Kofford Books) in 2013.
Dr. Livingston currently chairs the campus writing center advisory group and most recently served as president of the Faculty Senate for the second time.
The Minnie Stevens Piper Foundation, organized in 1950 and incorporated in the State of Texas, is a non-profit, charitable corporation with Randall Gordon Piper, and his wife Minnie Stevens, being the principal donors. The foundation assists financially limited Texas residents who are working toward, or wishing to receive, a higher education in Texas, with the completion of their education by contributing to community chests and supporting non-profit organizations or activities dedicated to the furtherance of the general welfare in Texas.
LSC-Montgomery is located at 3200 College Park Drive, one-half mile west of Interstate 45, between Conroe and The Woodlands. For more information about the college, call (936) 273-7000, or visit www.LoneStar.edu/montgomery.

Lone Star College System has been opening doors to a better community for more than 40 years. Founded in 1973, LSCS remains steadfast in its commitment to student success and credential completion. Today, with 78,000 students in credit classes, and a total enrollment of more than 90,000, Lone Star College System is the largest institution of higher education in the Houston area and one of the fastest-growing community college systems in the nation. Dr. Steve Head is the chancellor of LSCS, which consists of six colleges including LSC-CyFair, LSC-Kingwood, LSC-Montgomery, LSC-North Harris, LSC-Tomball and LSC-University Park, seven centers, LSC-University Center at Montgomery, LSC-University Center at Universit
y Park, Lone Star Corporate College, and LSC-Online. To learn more visit
LoneStar.edu
.