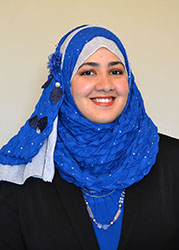 Being first is nothing new for Lone Star College-Tomball student Heba Ramadan. The Egypt native was the first in her family to leave her home country and the first in her family to go to college. She has funneled that pioneering energy into her efforts in Alpha Rho Mu, LSC-Tomball's chapter of the international community college honor society Phi Theta Kappa (PTK), leading the chapter to the #1 spot internationally. At the PTK International Convention, held in San Antonio, April 16-18, Ramandan was also recognized as a 2015 Phi Theta Kappa Guistwhite Scholarship recipient. With this honor, Ramadan received a medallion and a $5000 scholarship to put toward her baccalaureate studies which she plans to continue at the University of Houston.
Fifteen recipients were selected by a panel of independent judges from more than 1,700 applicants for the prestigious Guistwhite award. Selection was based on academic achievement, leadership accomplishment, and engagement in Phi Theta Kappa programming. "When I learned I had won, I was shocked and filled with joy at the same time," Ramadan said. "The Guistwhite Scholarship is especially meaningful to me because it recognizes my commitment to Phi Theta Kappa programming, including the College Project, Honors in Action, the Five-Star Competitive Edge challenge (a professional development plan to strengthen soft skills), and the Leadership Development Studies Program."
Upon arriving in the United States five years ago, Ramadan found herself in a position where she needed to "Find a Way or Make One," not coincidentally one of PTK's working themes for the 2014-2015 school year. Not satisfied with merely a high school diploma, she knew that she had to improve her English if she were to continue her studies, further her education, and improve her life. Steadfastly working her way through English as a Second Language classes, then staying the course through a series of non-credit developmental courses, she worked constantly, always with her academic goals in mind. "I utilized the tutoring center for math, reading, and writing," Ramadan said. "I went to study groups. I would go home and translate all my lectures and homework. It definitely took me longer to study for a lecture than the average American student."
Her perseverance paid off. Eventually able to enroll in credit courses, she applied her diligent routine to all of her studies and in May 2014, graduated with an Associate of Science degree, garnering a 4.0 grade point average, and Summa Cum Laude honors. Ramadan has stayed on at LSC-Tomball this year to continue taking classes that will transfer to UH where she hopes to pursue a BS, then an MS in Mechanical Engineering Technology.
"Heba is the strongest student leader I know," said English professor and PTK advisor Dr. Rebecca Tate.  Her leadership style is marked by positivity, flexibility, and resourcefulness. She is more interested in getting projects completed with excellence than taking credit for them.  She leads by example with a commitment and a dedication that inspires her peers to be the best that they can be."
Each year, PTK must design a year-long college service project and this year's "Find a Way" initiative seized on the growing awareness of the importance of GRIT and growth mindset in the success of individual."  I view Grit and Growth Mindset as the backbone to one's success" Ramadan said. "My success has been a product of my struggle."
Also a math tutor in LSC-Tomball's Extended Learning Center, Heba is grateful for the opportunities that have been afforded her since arriving at the college. "If I were still in Egypt, I would not have had the chance to do any of what I was able to accomplish here at LSC-Tomball. This has been the best experience I have ever had. Lone Star College-Tomball allowed me to come out of my shell and become a confident, well-rounded young woman." 
The Guistwhite Scholarship Program is named in honor of the late Dr. Jack Guistwhite and his widow, Margaret Guistwhite. Dr. Guistwhite established the first designated transfer scholarship for Phi Theta Kappa members at Florida Atlantic University in 1975. The Guistwhite Scholarships were established by Phi Theta Kappa in 1992.