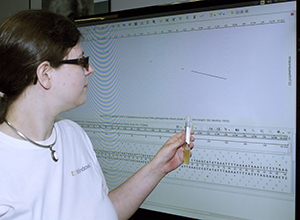 Lone Star College-Montgomery nursing student Kimi Austin will be one of five of the college's science students to showcase her unique biotechnology project at the Community College Undergraduate Research Initiative (CCURI) Spring 2015 Student Poster session held in Porland, Oregan, this month, as part of a national initiative to expand undergraduate research opportunities to community college students.
As part of a national initiative to expand undergraduate
research opportunities to community college students, five Lone Star College-Montgomery science students will showcase their unique projects at the Community College Undergraduate Research Initiative (CCURI) Spring 2015 Student Poster session held in Portland, Oregon, this month.
CCURI uses a teaching model that exposes students to real-world science through a case study and hands-on research, while providing resources such as regional and national workshops and conferences. Annually, the conference and poster session allows 50 students the opportunity to showcase new undergraduate research and its supporting evidence.
"Watching these students grow as young scientists has been an extremely rewarding experience for me," said Dr. Daniel Kainer, director of LSC-Montgomery's Biotechnology Institute. "Most students' science education does not provide them with the type of authentic scientific experience that only research can provide. Students who get to 'learn science by doing science' experience the thrill of discovery that professional scientists get to experience on a regular basis!"
LSC-Montgomery nursing major and Honors College student Kimi Austin was working on a spin-off honors project from last semester on Staphylococcus aureus when she stumbled on a unique discovery, and the opportunity to attend the CCURI conference.
"I was here on a Saturday, and had just found a protein that was effected by morcellation," Austin said. "So I went to see Dr. Kainer and he mentioned an opening for the conference because a student backed out. So I stayed up all night writing my abstract and getting it submitted."
While researching a link between methicillin-resistant Staphylococcus aureus (MRSA) and the Staphylococcus aureus strain that infects cows, Austin found a rare section of the prokaryote Staphylococcus aureus genome that is affected by a process called morcellation, the division into small pieces, which predominately effects eukaryotes only.
Austin says she loves that there is an opportunity to do real science at a community college like LSC-Montgomery, where many don't realize there is access to things like super computers, and she is really excited to represent the college and what it offers.
LSC-Montgomery student Tim Hall, who has yielded phenomenal reaction in his development of an algae medium that allows cells to grow quicker and at a higher density than possible for potential applications in nutraceuticals, pharmaceuticals and biofuels, is ready to share his results at the conference.
"Making presentations and being judged helps develops a lot of skills," Hall said. "And getting feedback is immense in dealing with and improving critical aspects of the project."
Other LSC-Montgomery students presenting are:
David Morales
on his construction of an on-campus aquaponics system that will produce enough organic vegetables and fish to feed the standard three meals a day for an entire year to a family of four.
Mary Goodwin
on her study of Emiliania huxleyi, an algae responsible for 20 percent of our atmospheric oxygen, and the effect of pH on its growth in comparison to strains isolated from the English Channel by researchers at the University of Texas versus the strain she is attempting to isolate from the Gulf of Mexico.
Jim Markham
on his orchestration of a collaboration between the Lone Star College Biotechnology Institute, Healing Hands Ranch, Gulf Coast Trade Center and the United Way to enable at-risk boys to gain valuable skills in the construction and maintenance of aquaponics systems at LSC-Montgomery and on their home campus.
For more information on LSC-Montgomery's biotechnology institute, contact Dr. Kainer at (936) 273-7060 or
Daniel.B.Kainer@LoneStar.edu
.
LSC-Montgomery is located at 3200 College Park Drive, one-half mile west of Interstate 45, between Conroe and The Woodlands. For more information about the college, call (936) 273-7000, or visit www.LoneStar.edu/montgomery.

Lone Star College System has been opening doors to a better community for more than 40 years. Founded in 1973, LSCS remains steadfast in its commitment to student success and credential completion. Today, with 78,000 students in credit classes, and a total enrollment of more than 90,000, Lone Star College System is the largest institution of higher education in the Houston area and one of the fastest-growing community college systems in the nation. Dr. Steve Head is the chancellor of LSCS, which consists of six colleges including LSC-CyFair, LSC-Kingwood, LSC-Montgomery, LSC-North Harris, LSC-Tomball and LSC-University Park, seven centers, LSC-University Center at Montgomery, LSC-University Center at University Park, Lone Star Corporate College, and LSC-Online. To learn more visit LoneStar.edu.