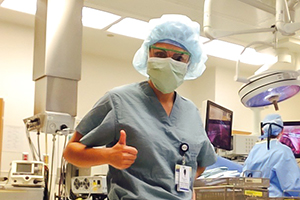 Former LSC-Montgomery student Kendra Gagneux is one of many students taking advantage of summer internship programs similar to the competitive Michael DeBakey Summer Surgery Program to make their resume more attractive for todays aggressive job market.
With constant encouragement to pursue internships during their college career, students are becoming more With constant encouragement to pursue internships during their college career, students are becoming more
aware that professionals are looking for that spark in their resume that stands out from the rest of the applicants.
For former Lone Star College-Montgomery and current University of Houston student, Kendra Gagneux, that spark was more like a massage–an open heart cardiac massage-that she experienced as part of the ultra-competitive Michael DeBakey Summer Surgery Program.
After just one month in the program, Gagneux has already experienced opportunities many could never imagine, such as participating in lung and cerebral surgeries, shadowing doctors in the intensive care unit (ICU) and even massaging a beating human heart (also called open-chest cardiac massage).
"Right then and there, one of the residents who had been massaging the heart asked if I wanted to learn how to massage it, and without hesitation I said "yes"," said Gagneux, when talking about what she claims has been the best experience of her life.
Gagneux always seemed to be ahead of the game, having over 600 volunteer hours at Memorial Hermann Hospital in The Woodlands before she even graduated from The Woodlands High School in 2012. After graduation, she immediately enrolled at LSC-Montgomery, with the goal to transfer to the University of Houston in pursuit of a biomedical engineering degree.
"My experience at LSC-Montgomery was incredible," Gagneux said. "My classes were small and interesting, and the professors were great." Her positive experience at LSC-Montgomery is what inspired her to stay one more year and pursue an associate's degree before transferring to the University of Houston.
During her time at LSC-Montgomery, Gagneux took numerous themed classes that allowed her to think outside-of-the-box. LSC-Montgomery English professor, and now academic dean, Dr. Brandy Harvey, helped push Gagneux to her full potential, becoming her mentor and encouraging her to enter a project in the Communications Across the Curriculum (CAC) student conference.
With the help of her many educational projects, as well as her membership in the UH Honors College, Gagneux's impressive resume was exactly what she needed to be accepted into the competitive Michael DeBakey Summer Surgery Program.
The eight-week program exposes well-qualified undergraduate students with an interest in medicine to the hospital environment and gives them the opportunity to actively participate in the surgical team's daily schedules.
"I'm lucky because this is a once-in-a-lifetime opportunity that I got just for being in the right place at the right time," Gagneux said, humble and confident that her experiences have been unique.
Summer internships often help reinforce a student's decision to pursue a particular degree, and when asked how her experiences have impacted her career choice, Gagneux simply replied, "The DeBakey Summer Surgery Program has only solidified my decision to go to medical school and pursue a career in surgery."
LSC-Montgomery is located at 3200 College Park Drive, one-half mile west of Interstate 45, between Conroe and The Woodlands. For more information about the college, call (936) 273-7000, or visit www.LoneStar.edu/montgomery.
Lone Star College System has been opening doors to a better community for more than 40 years. Founded in 1973, LSCS remains steadfast in its commitment to student success and credential completion. Today, with 78,000 students in credit classes, and a total enrollment of more than 90,000, Lone Star College System is the largest institution of higher education in the Houston area and one of the fastest-growing community college systems in the nation. Dr. Steve Head is the chancellor of LSCS, which consists of six colleges including LSC-CyFair, LSC-Kingwood, LSC-Montgomery, LSC-North Harris, LSC-Tomball and LSC-University Park, seven centers, LSC-University Center at Montgomery, LSC-University Center at University Park, Lone Star Corporate College, and LSC-Online. To learn more visit LoneStar.edu.