Attendees at Lone Star College-CyFair's weekly programs this October will learn about The Great Storm of 1900, Artificial Intelligence, dance-hall music and edible holiday treats.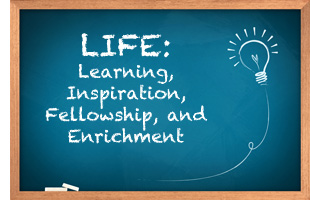 The Learning, Inspiration, Fellowship, and Enrichment (L.I.F.E.) programs are free and held Wednesdays from 10:00 - 11:00 am in the library (Room 131 unless otherwise noted) at 9191 Barker Cypress.
October 7 — Galveston, Oh Galveston
Gulf Coast Reads title selection is The Promise by Ann Weisgarber. The author of this wonderful historical novel talks about her research and impressions of how the Great Storm of 1900 changed the face of Galveston and Houston forever. Book signing follows. www.gulfcoastreads.org/
October 14 — Is It the End of the World as We Know It?
"A world-altering hurricane called Artificial Intelligence is on the way," says writer Tim Urban. (waitbutwhy.com) Patrick Gunnels takes a global look at AI and some of his discoveries may wake you up to its potential for vast good or vast evil.
October 21 — Sweet Evelina and Other Texas Dance-Hall Music
Get your toes to tapping with the help of 12-year-old musician, Emme Jennings, on piano and fiddle (violin). Relive some of the music in Gulf Coast Reads selection The Promise by Ann Weisgarber. You may even get to see a short dance-hall demo by Kelly Norton and Gary Faulkenberry. Meet in ARTS Recital Hall 102.
October 28 — Happy Hallowpalooza
See edible creepy, crawly, spooky Halloween creatures concocted before your very eyes with Donny Jansen, our culinary webmaster at the college.
Participate in the October Gulf Coast Reads, a Texas Gulf Coast reading project of The Promise by Ann Weisgarber. Read the book and join the libraries and museums of the area in discussion and programs.
Call the library at 281.290.3214 for L.I.F.E. program information or go online to LoneStar.edu