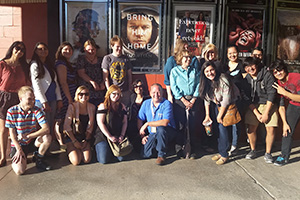 On the heels of the release of the science fiction film The Martian and NASA's confirmation of water on mars, the Lone Star College-Montgomery biotechnology program secured a two-year grant from the Texas Space Grant Consortium (TSGC) to evaluate the responses of microorganisms when exposed to surface conditions similar to those found on Mars.
On the heels of the successful release of the science fiction
film The Martian, staring actor Matt Damon, and the uncanny timing of NASA's confirmation of water on mars, the Lone Star College-Montgomery biotechnology program secured a two-year grant from the Texas Space Grant Consortium (TSGC) to evaluate the responses of microorganisms when exposed to surface conditions similar to those found on Mars. 

TSGC, a NASA-funded organization formed in 1989, consists of institutions in Texas networked to ensure that benefits of space research and technology are available to the public of Texas. Academic members include both large and small public and private institutions and the consortium has developed a mix of higher education, research infrastructure and public service projects. 

"It was pretty cool timing," said Lone Star College Biotechnology Institute (LSCBI) director Dr. Daniel Kainer. "Right about the time approval was granted, NASA made the big announcement that they discovered liquid water on Mars. With the movie The Martian coming out at the same time, it made our project both current and relevant to the LSC-Montgomery student body."

"This type of real-world experience is so valuable to our students," said LSC-Montgomery president Dr. Rebecca Riley. "Experiential learning is a great opportunity for them to gain a competitive edge in today's job market or adds to their resume when transferring to four-year programs."  

The biotechnology team will examine ways in which cyanobacteria, commonly known as blue-green algae, can be integrated into sustainable life support systems for future astronauts who travel to, and possibly colonize, on Mars. Students will chase this goal using equipment already utilized in the college's project lab, as well as with new equipment and supplies that will be purchased with the grant funds.

"Cyanobacteria are photosynthetic but they are more like bacteria than they are like algae," Kainer said. "They are very adaptable to extreme environments, which gives us some optimism that they can survive and perform useful functions in challenging Mars-like conditions."

With the use of an anaerobic chamber already in the lab, they will utilize grant funds to purchase tanks of carbon dioxide, argon and nitrogen to simulate Martian atmosphere inside the chamber.

They also intend to purchase a cylindrical vacuum chamber that is designed to reproduce the extremely low atmospheric pressure found on the Martian surface, which is less than one percent of the Earth's atmosphere at sea level. Students will culture various microorganisms in the vacuum chamber under these conditions and then expose the chamber to Martian-level temperatures.  

"We plan to take the vacuum chamber containing the gasses and simulated pressure and immerse it in a special chemical bath that will be cooled with either dry ice or liquid nitrogen, dropping the temperatures to extremely low levels similar to those on Mars," Dr. Kainer said. "We will then evaluate the organisms responses in these differing cold temperatures."

Other Martian environmental features that the lab hopes to study include the geological composition of regolith, which is soil without organic components.

Finally, students will simulate the Martian surface ultraviolent radiation exposure, which is high due to the thin atmosphere surrounding Mars.

"It's considered to be a threat to earthlike life because Mars' atmosphere doesn't really block UV rays like earth's does," Kainer said. "Some organisms are really good at dealing with that and some aren't, and we hope to evaluate that."

"What we are going to try to find out is what kinds of organisms can withstand all these crazy things that Mars throws at them and then characterize that," Dr. Kainer explained. "We then hope to develop demonstration projects regarding how to use those organisms that can survive to produce food, biofuels and other resources for future existence on Mars."

A portion of the grant includes a dissemination of the project results, with the intent to maintain a blog to monitor progress.

"My hopes are to keep a real-time online journal along with anything students might want to post regarding the project, as long as it is reasonable and relevant," Kainer said.

Additionally, funds may also be set aside for teacher workshops that will provide teachers with Mars-specific curriculum ideas which could be useful in kindergarten through high school classrooms.

For more information on the biotechnology department at LSC-Montgomery, contact Dr. Kainer at dkainer@lonestar.edu or (936) 273-7060.

LSC-Montgomery is located at 3200 College Park Drive, one-half mile west of Interstate 45, between Conroe and The Woodlands. For more information about the college, call (936) 273-7000, or visit www.LoneStar.edu/montgomery.

 

Lone Star College System has been opening doors to a better community for more than 40 years. Founded in 1973, LSCS remains steadfast in its commitment to student success and credential completion.  Today, with almost 83,000 students in credit classes, and a total enrollment of more than 95,000, Lone Star College System is the largest institution of higher education in the Houston area and one of the fastest-growing community college systems in the nation.  Stephen C. Head, Ph.D., is the chancellor of LSC, which consists of six colleges including LSC-CyFair, LSC-Kingwood, LSC-Montgomery, LSC-North Harris, LSC-Tomball and LSC-University Park, seven centers, LSC-University Center at Montgomery, LSC-University Center at University Park, Lone Star Corporate College, and LSC-Online. To learn more visit LoneStar.edu.