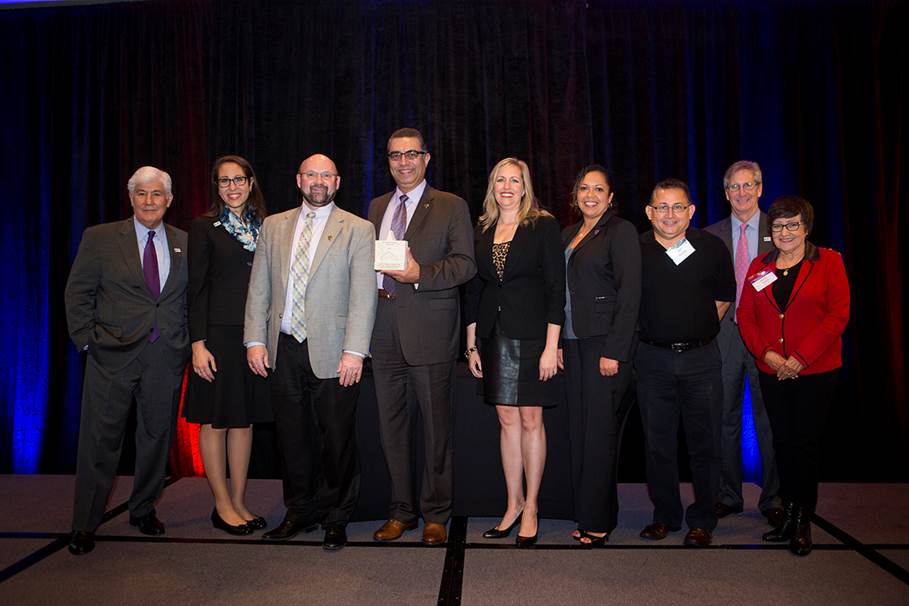 2015 STAR AWARD WINNER -- LSC-University Park representatives accept the 2015 Star Award at the State of Higher Education luncheon in Austin on Nov. 20. Pictured, from left, Raymund A. Paredes, Commissioner of Higher Education; Christina Delgado, Student Representative, Texas Higher Education Coordinating Board (THECB); Michael Matthews, Original Innovator and Ongoing Contributor of ECPS; Shah Ardalan, President, LSC-University Park, holding the award; Christina Robinson, Chief Strategist, LSC-University Park; Jeannie Hale, Director of Innovation and Project Management, LSC-University Park; Art Murillo, Member Lone Star College Board of Trustees; Robert "Bobby" Jenkins Jr., Chair THECB; and Dora G. Alcalá, Member, THECB.
---
The Texas Higher Education Coordinating Board recognized Lone Star College-University Park as the winner of its prestigious 2015 Star Award. The College won for its innovative Education and Career Positioning System (ECPS) – a suite of computer applications that help students in planning for their futures.
The Board made the announcement at the annual State of Higher Education Luncheon Nov. 20 in Austin.
The award, given annually since 2001, recognizes Texas colleges and universities that develop programs, projects and activities that close educational gaps and support the state's Closing the Gaps by 2015 strategic plan for higher education. The ECPS program will also move the state forward as it embraces the new plan 60x30TX.
The ECPS is empowered by the U.S. Department of Education's "My Data" initiative. ECPS allows students, faculty, advisors and parents work together to simulate, validate and plan a student's education-to-career path. Users can explore different options, and the applications let students explore possible career paths and achieve their goals.
"There were many excellent Texas programs to choose from among this year's seven Star Award finalists, but Lone Star College-University Park's innovation surpassed the Star Award judges' criteria and expectations. This ECPS innovation is an outstanding example of how Texas institutions creatively help to close the education gaps that challenge our state," said Commissioner of Higher Education Raymond Paredes. "The Coordinating Board is proud to recognize Lone Star College-University Park and the people who developed and implemented this state-of-the-art program that benefits Texas students."
LSC-University Park's hallmark is its standing Invitation-2-Innovate -- an opportunity for all faculty, staff and students to think outside of the box and to imagine and consider more effective and efficient approaches and solutions throughout the College.
Mary E. Smith, assistant deputy commissioner for academic planning and policy at the Texas Higher Education Coordinating Board, said the judges focused on finding the most innovative ideas. LSC-University Park has those ideas and is the fastest growing college in Texas, she said.
LSC-University Park President Shah Ardalan said, "We are dedicated to finding solutions to higher education and workforce challenges. I am grateful for the support of LSC Chancellor Steve Head and LSC Board of Trustees as we explore new and innovative ideas. It was great to see Trustee Art Murillo there for the announcement. I am very pleased that the team's hard work continues to be recognized by state and national education leaders."
He said the ECPS, through the help of innovators across the country, has contributed to increasing the College's student retention and completion rates.
He added, "We are also very proud that of 48 nominations and 42 applications from Texas colleges and universities, two LSC colleges were finalists. I congratulate our sister college, LSC-Montgomery and its President Rebecca Riley for being a finalist for its Teaching Highlighting Engagement Initiatives.
ECPS launched more than three years ago. In 2012, the U.S. Department of Education selected the project from 470 entries as a winner of its National Education Startup Challenge. In 2013, the LSC-University Park effort received a grant from the Bill and Melinda Gates Foundation.
As the original innovator and ongoing contributor Mike Mathews said, "This Award was long anticipated, as every feature of the ECPS directly improves the results for goals in Texas' strategic plan for higher education."
LSC-University Park's Chief Strategist for Innovation Christina Robinson said, "We couldn't be happier for every student in Texas and America to potentially be affected through the innovation that has now been recognized by education leaders on a state and national level."