Test flights of Lone Star College-CyFair's Unmanned Aerial Vehicle (UAV) with honors student Kylie Monet at the controls "have been an absolute success and beyond our initial expectations" said geography professor Buck Buchanan.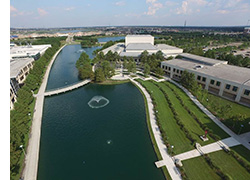 After serving 12 years in the U.S. Marine Corps as an F/A-18 mechanic, she worked as an Aerial Observer, patrolling natural gas pipelines from the air and working with FLIR cameras to detect gas leaks at compressor stations. With a career goal of working in the federal government's emergency management field, Monet was very interested upon hearing about Buchanan's effort to purchase the UAV, now affectionately named "Theia" (Greek goddess of the sight, presider over the bright blue sky.)
Her honors project revolves around how to use UAVs in search and rescue (SAR) and disaster recovery operations. The focus is to provide emergency management and first responder teams with real time imagery of where hazards and casualties are located within a disaster area. When deployed, the use of these UAVs could potentially save lives and reduce the time and effort spent on rescue and recovery operations.
"Wouldn't it be great to have some kind of imagery or video to let you know what you're getting into so you can plan and prioritize accordingly?" asked Monet, whose mom worked at Ground Zero right after 9/11 and who deployed to Katrina to aid in rescue operations there. "This coupled with GIS maps and infrared/thermal imagery are powerful tools."
Showing how this new technology can be applied to improve efficiency of first responders is a convergence of professional and personal interests for Monet, said Buchanan.  However, through shared experiences and practical applications in the classroom, this emergent remote sensing (aka aerial imagery/video) technology also presents several beneficial inquiry and analysis opportunities for students.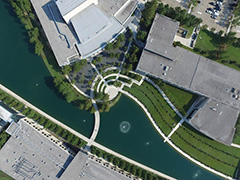 With an internal GPS unit, barometric altimeter, internal gyroscope to stabilize, accelerometer, digital compass and more, Buchanan said the UAV constantly corrects itself while hovering at 400 feet above the campus and provides a multitude of metadata for each picture to include altitude, speed, and latitude/longitude. 
"While before my geography students and Michael Konvicka's Geographic Information Systems (GIS) students relied only on data publicly available, the benefit now, is we can collect our own images and design and customize our own projects," he said. "We are blown away by the stability and resolution of the UAV as well as the possibilities of its uses."
From student projects to discussions exploring career-related options, the UAVs can be used beyond the classroom for faculty project partnerships with other disciplines, such as anthropology, fire science and criminal justice, as well as in community and campus projects, said Buchanan.
LSC-CyFair's two UAVs, one for the classroom and for department projects, were purchased in part with the Chancellor's Faculty Technology Innovation Grant (CFTIG) funds as well as Campus Technology Advisory Committee (C-TAC) college technology funds. More recently Buchanan and assistant professor of anthropology David Bruner earned an LSC-CyFair Mini-Grant for an Applied Use of Unmanned Aerial Systems in Geo-Visual Communication project.
For information on the UAV classroom and faculty projects, email Buck.J.Buchanan@LoneStar.edu.