From more than 1,100 applicants worldwide, three Lone Star College-CyFair students were selected as Phi Theta Kappa Honor Society as 2015 Coca-Cola Leaders of Promise Scholars.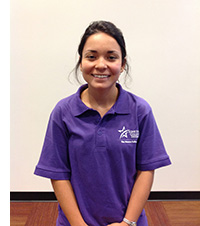 "We're thrilled and proud to have three winners – Daniela De La Pava, Allyson Henry and Brooke Budewig - from our chapter," said Blake Ellis, LSC-CyFair Phi Theta Kappa co-advisor with Dean Daniel Villanueva. "The Coca-Cola Leaders of Promise Scholarship is one of the most prestigious awards for undergraduate students."
Independent judges evaluate the applications based on scholastic achievement, community service and leadership potential. The Coca-Cola Leaders of Promise Scholarship Program provides new Phi Theta Kappa members enrolled in associate degree programs $1,000 to help defray educational expenses as well as opportunities to develop leadership skills and make a difference in their communities.
De La Pava said she was uncertain of her academic and career goals as a new student at LSC-CyFair in 2014; however, with guidance from LSC and Honors College staff, she plans to major in biology and minor in education; teach high school and then college; and ultimately earn a PhD. She said Phi Theta Kappa and the Coca-Cola scholarship provides her the opportunity to not only continue her education, but be a more successful college student.
"I enjoy being a part of a community of students that focuses on achieving academic excellence, and that is rewarded for doing so as well," she said. "I truly believe that education is the only path to ending ignorance in the world, and organizations, such as Phi Theta Kappa, inspire students to be exceptional students and overall leaders."
In addition to De La Pava, Henry and Budewig, Ellis is proud of another student, Skyeler Aguado, who won the 2015 Walter B. Cooper Memorial Scholarship from Phi Theta Kappa's Texas Region Alumni Association.
For information on LSC-CyFair's Phi Theta Kappa program, email Blake.A.Ellis@LoneStar.edu.