Attendees at Lone Star College-CyFair's weekly programs this March will enjoy the local farm-to-table concept, the beauty of coastal Georgia islands, a historical philosophical discussion and the "Art of Risk" book discussion and signing.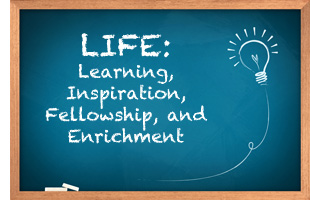 The Learning, Inspiration, Fellowship, and Enrichment (L.I.F.E.) programs are free and held Wednesdays from 10 a.m. to 11 a.m. in the library (Room 131 unless otherwise noted) at 9191 Barker Cypress.
March 2 - Come to the Gramen "Farmacy"
"Let Food Be Thy Medicine, and Medicine Be Thy Food" Hippocrates wrote around 450BC. Farmer Grant Wilson practices the farm to table concept of eating locally and naturally. Not only will he expound on the philosophy of healthful eating, but also will bring samples from his farm. He may even tell us his secret to cheese making from fresh raw milk.
March 9 - Island Hopping in Georgia
Explore the unspoiled beauty of coastal Georgia. Sample the unique charm of the islands of Jekyll, Cumberland, and St. Simons. Discover the remarkable history of this relaxing destination. Monica Norem leads the workshop.
March 23 - From Socrates to Sartre
Dr. Mark Thorsby leads us in historical philosophical musings across the planet starting in Turkey and ending in Paris. Next Wednesday (March 30) evening from 4 p.m. – 6 p.m. join The Think Factory for stimulating philosophical discussion in CASA 110.
March 30 - The Art of Risk
Join science writer Kayt Sukel for a discussion of her new book, The Art of Risk: The New Science of Courage, Caution & Chance. Learn how neuroscience and psychology impact risk-taking behaviors and our decision-making in work, love and life. A book signing will follow. Copies of the book will be available for purchase.?
Call the library at 281.290.3214 for L.I.F.E. program information or go online to LoneStar.edu.