Congratulations to the Lone Star College-CyFair's Staff Excellence Award winners - Kimberly Anderson, Emilio Bahena, Cristina Barron, Martha Diaz and Schandra Lewis - for their outstanding contributions to the college and vision of excellence.
Anderson joined the LSC-CyFair family as Staff Assistant of the Nursing Program in Division 4 – Public Service, Health and Behavioral Sciences in August 2010. She was promoted and has served as Nursing Program Coordinator since 2013.
"I enjoy coming up with innovative strategies that are beneficial for the program and the success of students," she said.
Barron started at LSC-CyFair as a part-time Student Support Specialist in Student Services in 2004, became a Staff Assistant I in Division I in 2006 and a Staff Assistant II in Division V in 2007. She was then promoted in 2008 to Division Operations Specialist, who over time supported various divisions including Division IV and VI as well as the Advanced Manufacturing Center at the LSC-Cypress Center. She is currently supporting Division III – Arts, Humanities, Media and Technology.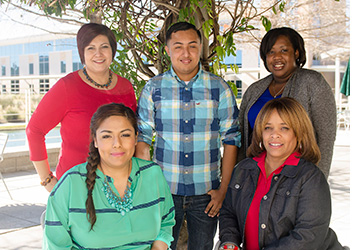 "What I enjoy most about my job is the learning environment, the support from co-workers and the academic schedule that allows me to spend a lot of time with family," said Barron.
Diaz began working at LSC-CyFair in the library in 2011 first as part-time at the circulation desk and then part-time as a reference assistant. She then became full-time Staff Assistant I for Division I and V in 2013. In 2014 she was promoted to Division Operations Specialist in Division V – Transitional Studies, Education and Student Success, a position that she currently holds.
"I like assisting the instructors and students with everything from general questions to paperwork to helping solve any issues," said Diaz. "It can be challenging as my day is always different."
Lewis started at LSC-CyFair in February 2013 as a Veterans Specialist III in Student Services. She was promoted to Advisor II Veteran Liaison in July 2014 and still holds that position.
"Because our veteran students served our country for us, I enjoy being of service to them," said Lewis. "It's rewarding to help them transition from military to civilian life in a college setting."
Bahena, the college's first Part-time Staff Excellence Award recipient, began at LSC-CyFair in October 2013 in a work study position in the Admissions and Records Department of Student Services. He was promoted to, and has served since February 2014 as, part-time Financial Aid Specialist III in the Financial Aid Department. Bahena, who received a Didwell-Liebling Opportunity Scholarship in Fall 2014, earned his associate degree at LSC-CyFair in May 2015 and began pursuing a bachelor's in Business Administration at the University of Houston in Fall 2015. He will be the first generation in his family to obtain a bachelor's degree.
"What I enjoy most about my job is the fact that I help so many people with their financial aid questions, especially those who don't speak English," he said. "I like teach them what I didn't know as a student to make the process easier for them." 
These dedicated staff members will be among those recognized at system-wide and college-wide award events later this spring.
For information on LSC-CyFair, go to LoneStar.edu.