Lone Star College-CyFair's Faculty Excellence Award winners – Dr. Aaron Alon, Dr. Blake Ellis, Dr. Carolyn Ho and Kimberly Lane - are all passionate about the respective subjects they teach and genuinely care about their students in and beyond the classroom.
Teaching music at LSC-CyFair since January 2012, Alon creates an environment that is in equal parts rigorous (high standards) and fun (rich in humor and discovery) in which students can become active, enthusiastic participants as they learn.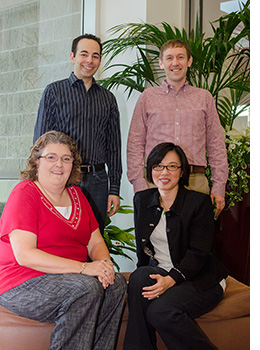 "I believe music is relevant to the other arts, to other fields and to life as whole. It is a part of a life well lived, one which can appeal to the mind and heart, the creative and the analytical," said Alon, who began as a mathematics major but found music had the biggest pull among his passions for myriad subjects. "There is a touch of extraordinary in just about everyone. Good teaching is about giving students room to discover that within themselves."
Teaching history at LSC-CyFair since 2012, Ellis believes a teacher should provide transformative learning experiences for students that establish lifelong learning patterns. In addition to preparing them for the job market and refining their skills as critical thinkers, he encourages his students' intellectual pursuits, creativity and curiosity.
"I'm passionate about studying and teaching social justice and human rights and the 20th century is a great opportunity to discuss the civil rights movement, women's rights, immigrants' rights, LGBT rights and more," said Ellis. His goal to teach students at least as much as they teach him helps him guide students with a passion in his courses that positively influences his students. "I want students to learn that history is not for people with power, money and privilege, but for everybody. And I hope they begin to see themselves as global citizens."
Teaching English for Speakers of Other Languages (ESOL) at LSC-CyFair since September 2003, Ho understands that ESOL students' needs are wildly varied, the linguistic and cultural backgrounds are vastly diverse and while the diversity is one of the most daunting challenges for faculty, it's also the most invigorating.
"I hold dear a core belief in teaching and learning that can be summarized with four words, four Es that drive my teaching and student advising," said Ho, a previous Faculty Excellence Award winner whose volunteering as a tutor in a public library helped her choose a career in teaching ESOL and bridging cultures through language learning. "Empathy reminds me to put what I do in perspective; Engagement is with lessons that have students participate in noticing, discovering and problem solving; Education is infusing cultural elements in course content to expand their knowledge and skills; and finally, my ultimate goal is to Empower learners to pursue what they want in the first place."
Teaching math at LSC-CyFair since 2007, Lane believes in doing everything she can to help her students achieve their goals starting with a collaborative and upbeat atmosphere. She lectures with enthusiasm and sometimes song; explains material in the simplest terms possible using acronyms and catchy phrases; gives constant feedback, incorporates study skills in class and holds some office hours in the tutoring center.
"I am very approachable and patient. My door is always open," said Lane, who has always thought math was fun like puzzles, but knows most are afraid of math, so she doesn't want students to be afraid of her or afraid to ask questions. "I try to instill how important their education is, that it's a privilege not to be taken for granted. I tell them if they don't pay their car note, the car can be taken away, but no one can take away their education. I tell them to major in their passion because it's not always about the paycheck but being happy in this world."
These four faculty members are among those employees who will be recognized for their outstanding service in upcoming college-wide and system-wide employee events. For information on LSC-CyFair and registration, which is under way for Late Start classes, go to LoneStar.edu/cyfair.