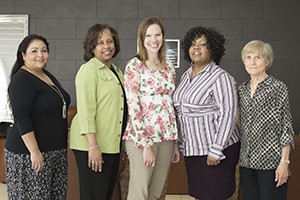 Lone Star College-Montgomery recently honored 5 employees with Staff Excellence Awards for their outstanding service to the college.
(from left to right: April Garcia, Karen Jones, Brandy Beucler, Cynthia Maclin and Nancy Prejean)
Lone Star College-Montgomery recently honored five
employees with Staff Excellence Awards. Brandy Beucler, April Garcia, Karen Jones, Cynthia Maclin, and Nancy Prejean have been recognized for their outstanding service to the college.
"Our staff are instrumental in providing an excellent college experience for our students," said Dr. Rebecca Riley, president of LSC-Montgomery. "I am proud to call Brandy, April, Karen, Cynthia, and Nancy my colleagues. I admire their hard work and dedication."
Lone Star College has been Brandy Beucler's home since 1999 when she started as a student. She quickly transitioned from tutor to student aide to adjunct professor at Lone Star College-North Harris.
"I was honored to receive a Staff Excellence Award," Beucler said. "I feel very valued. I'm proud to work for an institution that provides new beginnings and inspires students' hopes and dreams."  
Beucler came to LSC-Montgomery in 2009 as the web content/design coordinator. She is involved in all aspects of digital marketing dedicated to encouraging student success, enhancing the LSCS brand and providing clear pathways to educational opportunities.
"I am grateful to my instructors and mentors at Lone Star College-North Harris who helped cultivate my talents." Beucler said. "I'm blessed to have a job that engages my strengths. It never feels like work."
April Garcia is also a LSC graduate. Garcia took a developmental English class when the instructor asked her to work part time in the theater, education, art, humanities, math, and music (TEAM) division. The department found that Garcia was the perfect fit for the division operations specialist position.
Garcia's favorite part about working at Lone Star College is her coworkers. "Everybody is family. Everybody cares for each other and is genuinely concerned about each other," she said.
Garcia builds the class schedule for the TEAM division and makes sure the employees have the tools, supplies and support they need to ensure students succeed in class and move onto the next level.
Karen Jones started with Lone Star in 2009 as a part-time advisor. Since then, she has moved into positions in orientation and student activities. She discovered her desire to work with students after completing an LSCS leadership training.
"I love working with students and setting them up for success at LSC-Montgomery," said Jones. "Statistics show the more a student is involved on campus, the more they feel part of a community, so it is easier for them to excel in school. I love that I really get to know students and see them grow." 
Another Staff Excellence recipient is Cynthia Maclin, a division operations specialist for the behavioral sciences, English, languages, and speech (BELS) division. By collaborating with faculty and staff, she contributes to the success of the division.
Maclin was surprised to receive the award. She said, "I just thank my colleagues for even thinking of me and respecting me for a job well done."
At LSC-Montgomery, Maclin is involved in the Professional and Support Staff Association (PSSA). She is also involved in her community where she volunteers at the Boys and Girls Club, the YMCA and her church. In her leisure time she enjoys spending time with family and friends.
Also recognized was Nancy Prejean, the part-time program coordinator in the biotechnology department. She supports faculty while also showcasing the biotechnology program at outreach events. This year was the first year a part-time worker could be recognized with a Staff Excellence Award. Every LSCS campus was able to highlight one part-time worker.
"The award was really quite unexpected as there are many worthy part-time people," Prejean said. "I appreciate the biotechnology team that nominated me. They are a great group to work and they are very supportive of everything I do."
Prejean describes her career at LSC-Montgomery as a second home. Before coming to the biotechnology department, she taught in the public school system for 35 years. With relevant academic experience, she has a strong sense of what student success means at LSC-Montgomery. Prejean said, "It is very important for students to graduate and complete their academic goals, but it is even more important for them to leave LSC-Montgomery with an ambition to contribute to their community and make a difference in the lives of the people around them."
LSC-Montgomery is located at 3200 College Park Drive, one-half mile west of Interstate 45, between Conroe and The Woodlands. For more information about the college, call 936.273.7000, or visit www.LoneStar.edu/montgomery.
Lone Star College System has been opening doors to a better community for more than 40 years. Founded in 1973, LSCS remains steadfast in its commitment to student success and credential completion.  Today, with almost 83,000 students in credit classes, and a total enrollment of more than 95,000, Lone Star College System is the largest institution of higher education in the Houston area and one of the fastest-growing community college systems in the nation.  Stephen C. Head, Ph.D., is the chancellor of LSC, which consists of six colleges including LSC-CyFair, LSC-Kingwood, LSC-Montgomery, LSC-North Harris, LSC-Tomball, and LSC-University Park, seven centers, LSC-University Center at Montgomery, LSC-University Center at University Park, Lone Star Corporate College, and LSC-Online. To learn more visit LoneStar.edu.