Honors College at Lone Star College students recently traveled to Italy, conducting research projects for their Honors capstone projects. The study abroad trip for the 71 students was paid for as part of their Chancellor's Honors College Fellows Award.
"Exploring Italy expanded my perspective of the possibilities rushing around me. I never imagined I would walk Venetian streets or behold Ancient Roman artifacts as a tourist, let alone as an academic scholar," said Canaan McGee, LSC Honors College student. "This trip has sparked my curiosity and fueled my desire to further my education so that I can strengthen my role as a global citizen."
"This was once in lifetime opportunity for these students to take what they learned in a Lone Star College classroom and apply it in a truly global environment," said Dr. Katharine Caruso, LSC Honors College executive director. "Students continued their studies in art history, literature, history and STEM."
In addition to the study abroad group, 10 LSC Honors College students traveled to Washington and New York City where they visited museums and historical sites to explore and provide primary research for their Honors capstone projects. Both trips took place last month.
The capstone course and trip are open to all Chancellor's Honors College Fellows, who were competitively selected from across Lone Star College. Recipients of this award receive an award package to pursue a course of study culminating in an Honors AA or Honors AS degree. The award package includes tuition and fees, book allowance, general allowance, and the opportunity to study aboard.
"I would have to say the Italy Capstone not only provided me more sources for my honors project, but it also made my research come to life since I am doing a project which includes a historical analysis of Roman gladiators," said Alexis Meyer, LSC Honors College student. "It also allowed me to realize the importance of my past experiences and education I acquired while obtaining my Associate degree."
"We are excited to offer this level of international honors education to our students," said Caruso.
Students seeking to graduate with honors distinction as well as for students interested in earning individual honors course credit are encouraged to enroll in the Honors College at Lone Star College.
A limited number of spots for the international capstone trips, as well as travel to national and regional undergraduate research conferences, are also available on a competitive basis to all Honors College students.
The deadline to apply for an Honors College Chancellor's Fellow for the 2016-17 academic year is April 15. Visit LoneStar.edu/HonorsCollege to learn more about eligibility criteria and view application materials.
"This is an incredible opportunity for students who are looking to really get the most from their college experience," said Caruso. "The Honors College's wide-ranging program of study will engage and challenge high-achieving students both inside and outside the classroom."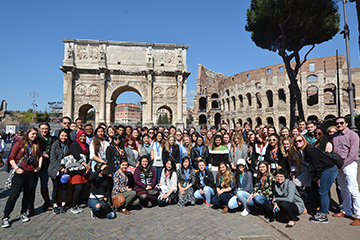 Honors College at Lone Star College students spent time in Italy to conduct research for their Honors capstone projects. Pictured are LSC Honors College students who toured Venice, Florence and Rome to further their studies.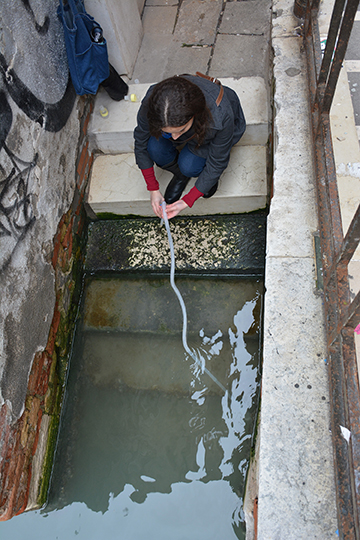 Lone Star College Honors student Sandra Pineda samples lagoon water in Venice as part of her Honors Capstone project in Chemistry.
Known for its leadership, innovation and steadfast commitment to student success, Lone Star College provides high-quality academic transfer and workforce education/career training programs to more than 83,000 credit students each semester, and a total enrollment of 95,000 students. LSC is training tomorrow's workforce today and redefining the community college experience to promote student success and economic prosperity. Stephen C. Head, Ph.D., is the chancellor of LSC, the largest institution of higher education in the Houston area, which consists of six colleges, eight centers, two university centers, Lone Star Corporate College and LSC-Online. To learn more visit LoneStar.edu.
####