Learn what the history of Coca Cola teaches about building a sustainable economy with author and history professor Dr. Bartow J. Elmore April 25 at Lone Star College-CyFair.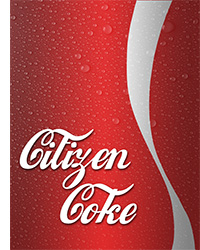 As part of LSC-CyFair History Department's Speaker Series, Dr. Elmore will give a presentation on his book "Citizen Coke: The Making of Coca-Cola Capitalism."
Born and raised in the heartland of Coca-Cola country, Atlanta, Georgia, Dr. Elmore's interest in environmental history grew out of his experiences wandering through the American South. In graduate school, he met environmental historian Ed Russell, who introduced him to the historical field he now calls home.
Join Dr. Elmore, assistant professor of environmental history at the University of Alabama, at 7 p.m. in the Main Stage Theatre, located in the Center for the Arts building at 9191 Barker Cypress.
Sponsoring this talk are LSC-CyFair's History Department and W.W. Norton Publishing Company.
For information, contact Sandra Harvey at 281.290.3282.