Lone Star College-CyFair Honors College Chancellor's Fellow  Ya Xing Li was recently selected as a member of the 2016 All-USA Community College Academic Team, one of only 20 students nationwide.
Selected from more than 1,900 nominations, this team consists of community college students who demonstrate academic excellence and intellectual rigor combined with leadership and service that extends their education beyond the classroom to benefit society. In addition to  receiving $5,000 scholarships, team members are featured in the USA TODAY newspaper and honored at the American Association of Community Colleges Annual Convention President's Breakfast, which was held this year April 12 in Chicago.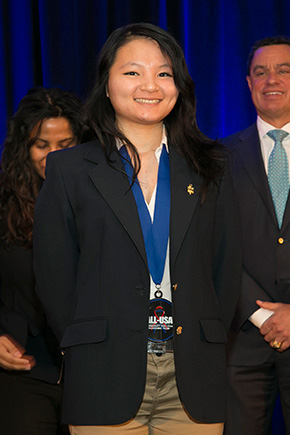 "We are very proud of Ya Xing, not only for her academic accomplishments, but also for her desire to help others achieve," said LSC-CyFair President Dr. Seelpa Keshvala. "Her story of success despite some hard times over the years is one with a never-give-up attitude that serves her well. The tenacity and resolve she has working one step at a time toward her goals, along with the positivity and enthusiasm she brings to everything she does, is impressive and admirable."
This prestigious honor is one of numerous awards and scholarships Li has earned on her academic path toward becoming a college-level finance teacher. 
"I am a very determined person," she said. "Some feel like applying for scholarships is too much work and applications are complicated, but I am so committed to my passion and future goal of teaching that I feel like if I want the money and I'm eligible, I will go for it."
With encouragement from her college professors, she has applied for as many scholarships as possible and is a Jack Kent Cooke Foundation semi-finalist as well as a recipient of the Gee Foundation Scholarship, Cy-Fair Education Foundation Scholarship, Didwell-Liebling Opportunity Scholarship, First Community Credit Union Endowment Scholarship and the All Texas Academic Team, to name just a few.
Success has not come easy for Li. There were many stumbling blocks along the way such as homelessness, language barriers and health issues.
As a child in China, at the age of 7, she had surgery to remove a tumor from her leg but couldn't afford the medical bills having a mentally disabled father and a mother who abandoned her. Relying on relatives for support, she cooked and sold Chinese food door to door to repay them.
In 2011, Li immigrated to the United States, but the challenges continued. She rode a bicycle to work in her uncle's restaurant as a waitress to pay rent in exchange for room and board. As a high school Chinese foreign student, she watched American films, read American newspapers and took ESL classes to improve her language skills. She also pushed herself academically with AP and honors classes.
With a nomination from her calculus teacher, this graduate of Cypress Woods High School was the only student selected for early admission to LSC-CyFair's first cohort of Honors College Chancellor's Fellows in the fall of 2014.
"The biggest accomplishment I have had as an Honors student was presenting my honors project in the Undergraduate Research Conference in 2014 and 2015," she said. "I was amazed that I was nominated to present in the conference and then to travel to Italy (for the Honors College International Capstone) with my research project in 2016."
While at LSC-CyFair, she has become a member of Phi Theta Kappa and serves as a Student Ambassador as well as volunteering at college and CFISD events and in the community with Habitat for Humanity and the Houston Food Bank.
 In addition to being a full-time student and her extracurricular involvement, she also works three jobs on campus helping other students.
"Knowing many incoming freshmen drop out of school, I became a peer mentor," said Li, who is also a math tutor. "Recognizing I had the opportunity to help disabled students, I became a note taker."
She also worked her way from hostess to assistant manager at an area restaurant.
"I love to work not only because my jobs provide me with the money I need to go to school, but also because these jobs give me the opportunities to strengthen my leadership, communication, mathematics and customer-service skills," she said.
On track to transfer to the University of Houston, Li said her dream is to become a teacher, a role model for her students and one who inspires them how teachers inspired her.
Many teachers, who she believes are the most important people in students' lives in addition to family, have helped her over the years, including one who took Li in temporarily when she was homeless. The main reason Li chose to pursue a finance degree is because of an accounting teacher who's Money Matters class taught Li  life skills such as filing taxes, finding a decent used car, making investments and basic knowledge for living on her own.
"My experiences have given me a stronger motivation to teach in order to help others succeed," she said.
In order to overcome challenges, Li said she needed to make changes. The three keys to her success are passion, determination and persistence, she added.
"I never know how my effort will help me to succeed. However, I tell myself that if I do not make the first step, the chance for me to succeed is always zero."