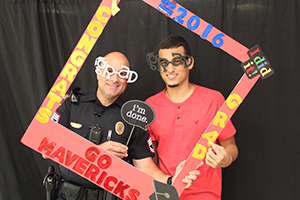 (Left to right: LSC Police Sergeant Edwin Gomez Sr. and Edwin Gomez Jr.) 
Naval Veteran and Lone Star College Police Sergeant Edwin Gomez Sr. is graduating from LSC-Montgomery with his son
Talk about leading by example. Navy Veteran and Lone
Star College Police Sergeant Edwin Gomez Sr. is graduating from LSC-Montgomery with his son Edwin Gomez Jr.
Friday, May 13 at 6 p.m., at The Woodlands Church-Fellowship Campus.
"I went back to school to show my children it does not matter how old you are, if you are looking to do something, work hard, go ahead and do it," said the elder Gomez. "I'm blessed and proud to see both my son and daughter grow up to be loving? and respectful young adults. It has been a pleasure working alongside them. It is a parents' dream and a proud moment to see their children graduate, but for me, it is a privilege and honor to stand next to my son and receive our diplomas together."
The elder Gomez is graduating with an associate of science in mechanical engineering technology. He has worked on the LSC police force for four years. The younger Gomez is graduating with associate of science and he plans to transfer to Sam Houston University for a master's degree in business management. He followed his father's lead as an LSC employee and also works on campus as a financial aid advisor. The elder Gomez's younger daughter Milianie is also attending LSC-Montgomery.
"At first it was a little challenging, my kids wanted to go to a four-year university straight out of high school," said the elder Gomez. "Now they really appreciate their time here at LSC-Montgomery. It is good for us as parents too because it is very economical to come here first. You pay much less than a four-year university and you get an even better education here."
"Going to LSC-Montgomery is a good start for my college career and it is close by home too," said the younger Gomez. "When I first got here the classes were a lot different from high school, but after I started working with students, faculty and staff, I really saw the benefit of starting my education at LSC-Montgomery."
The Gomez family has supported both students during their time at LSC-Montgomery. Things would get stressful during finals. "I studied till 3 or 4 a.m., sleep, then get ready to go to class at 7 a.m., then work, then go to tutoring because it had been a very long time since I had been in the school atmosphere," said the Sergeant Gomez. "Those LSC-Montgomery services helped me transition back to academic life."
"I didn't stay up as late as him studying," said the younger Gomez laughing. "Dad would stay up later than me."
The family is very excited to see their hard work pay off as they both walk across the stage and get their diplomas. "When we told my wife, she was ecstatic," said the elder Gomez. "She thinks it is very cool that we are both graduating on the same day. We have a lot of friends who will be there to celebrate and cheer us on."
LSC-Montgomery is located at 3200 College Park Drive, one-half mile west of Interstate 45, between Conroe and The Woodlands. For more information about the college, call 936.273.7000, or visit LoneStar.edu/Montgomery.
Known for its leadership, innovation and steadfast commitment to student success, Lone Star College provides high-quality academic transfer and workforce education / career training programs to more than 83,000 credit students each semester, and a total enrollment of 95,000 students. LSC is training tomorrow's workforce today and redefining the community college experience to promote student success and economic prosperity. Stephen C. Head, Ph.D., is the chancellor of LSC, the largest institution of higher education in the Houston area, which consists of six colleges, eight centers, two university centers, Lone Star Corporate College and LSC-Online. To learn more visit LoneStar.edu.